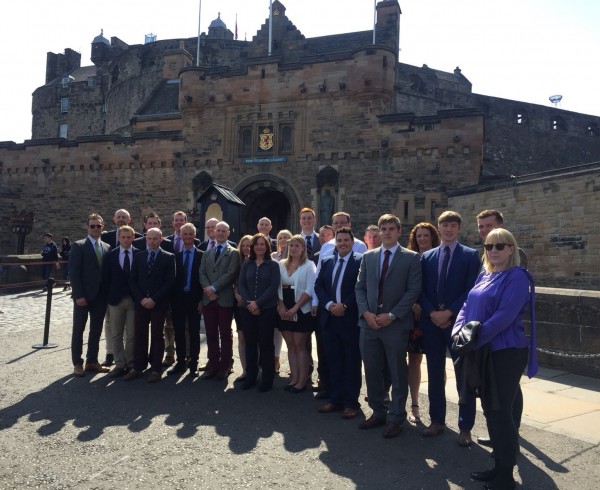 Brigadier Gareth Collett CBE closed Tour de Troops 2018 on 12 June 2018 by celebrating the gruelling five-day cycling challenge from Land's End to John O'Groats, at Edinburgh Castle with the participants.
The challenge saw 15 civilian and military cyclists cover 874 miles in just five day which raised money for Felix Fund, the charity supporting the Explosive Ordnance Disposal (EOD) community.
Brigadier Gareth Collett is the Senior Explosive Ordnance Engineer in the UK MOD and has been a high threat bomb disposal operator for 25 years, conducting bomb disposal duties across Great Britain, Northern Ireland, the Balkans, Iraq, the Middle/Far East and East Africa.
He was awarded the CBE for transforming how the UK developed and delivered counter IED operational capability, which has since set the framework and standard not just for the UK but worldwide. In 2012, Gareth became Head of Special Projects, responsible to the Defence Board for force protection and countermeasure development across the land, maritime, air and space and cyber environments.
The Tour de Troops is part of the Captain James Wadsworth Challenge, a set of challenges which test fitness and endurance to the limit.
Captain James Wadsworth CGC, who is behind the fundraising marathon, is grateful to the support throughout the event, "Thank you to Brigadier Gareth Collett for his support of the challenge – it is a huge honour to have him close the 2018 tour."
He goes on to say "I also want to thank our sponsors; defence and cyber security company L3 TRL Technology, Anchor Vans, the UK's largest van hypermarket, iDeal Displays, the professional signage company and the IExpe. Without their ongoing support, the tour would not have been possible".
The TRL Cycling Team joined the ride, cycling alongside the Tour de Troops team as they travel from Land's End to John O'Groats.
To make a donation to the Felix Fund, visit: https://www.justgiving.com/fundraising/tourdetroops
For editorial enquiries, contact 0131 357 8977 or email pr@redheadpr.co.uk
Ends 
Follow redheadPR on Twitter and like them on Facebook
Visit www.redheadpr.co.uk
Find out more about founder and managing director, Sara Tye