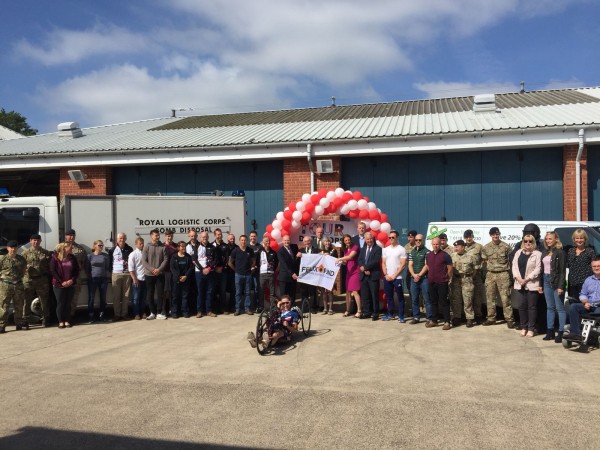 Mel Nicholls, British Paralympian and hand cyclist, launches Tour de Troops, the five-day endurance cycle ride from Land's End to John O'Groats, along with Councillor Ruth Hatton, Mayor of Tewkesbury Borough and Major Peter Norton GC.
Starting the ride in style, participants and the VIPs met at St. Barbara's Barracks, Ashchurch, before driving down to Land's End to start the epic journey which takes place 7 June 2017 to 11 June 2018. The Tour de Troops covers 874-miles in five days and is raising money for the military charity, Felix Fund, who support the Explosive Ordnance Disposal community and their families.
With terrorism at the forefront of British lives, especially over the past year, it's time to support those who, on a daily basis, fight terrorism and threats to the life we know.
Mel Nicholls, a British wheelchair athlete specialising in middle distance events in the T34 classification, competed in the 2012 Summer Paralympics and won a silver medal in the 800m at the 2015 IPC Athletics World Championships.
Major Peter Norton GC also met and saw off the cyclists. Major Norton is a retired ammunition technical officer with the British Army's Royal Logistic Corps who was awarded the George Cross for his service in Iraq.
Other VIPs who attended included Mark Hurrell, Deputy Lieutenant of Gloucestershire, who was former managing editor of BBC Radio Gloucestershire and Sir Francis Richards, Deputy Lieutenant of Gloucestershire, former director of GCHQ and Governor of Gibraltar.
Captain James Wadsworth CGC, who is behind the fundraising marathon, is grateful to the special guests as well as defence and cyber security company L3 TRL Technology, main sponsors of the event.
"It's really fantastic to have the VIPs launch the tour and to have their support. There is a huge amount of work that goes into organising an event on this scale, work that most people don't see, and none of that would be possible without organisations like L3 TRL helping." said Captain Wadsworth.
The TRL Cycling Team will also be riding alongside the Tour de Troops team as they travel from Land's End to John O'Groats.
Carly Hill, L3 TRL's Vice President of Marketing and Communications, said: "We are delighted to be sponsoring this year's Tour de Troops challenge … we feel our sponsorship of Tour de Troops is a way we can recognise the sacrifices and risks that bomb disposal and search personnel contend with to help keep our nation safe."
You can follow the Tour de Troops on Twitter @tourdetroops. To make a donation to the Felix Fund, visit: https://www.justgiving.com/fundraising/tourdetroops
For editorial enquiries, contact 0131 357 8977 or email pr@redheadpr.co.uk
Ends 
Follow redheadPR on Twitter and like them on Facebook
Visit www.redheadpr.co.uk
Find out more about founder and managing director, Sara Tye