X-Forces Enterprise is delighted to extend the training services it offers, within the military community, to a new Masterclass programme focused on Understanding the Basics of Marketing supported by ABF the Soldiers' Charity.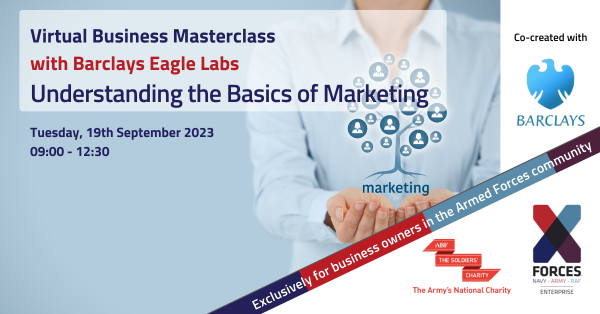 In this session, hosted in association with our partner organisation and household name Barclays, you will be introduced to the Alphabet Marketing Model. This model is the bedrock upon which we will help you to create and implement an initial marketing plan for your business. Every business, no matter how large or how small, needs to promote its products or services to the target market. This takes planning, research, and thought. Through this Masterclass you will develop an understanding that enables you to move forward with a cohesive plan in place.
The Masterclass will be hosted by Barclays Eagle Labs.
Barclays Eagle Labs are the home of UK start-ups. Their network of coworking spaces, mentors and learning tools, as well as our events and growth programmes for ambitious entrepreneurs and businesses, helps the UK's start-up community scale and succeed. Whether you are in the final stages of planning, the very early stages of launch, or you are already running your own business, we highly recommend enrolling on their wide-ranging programme of masterclasses to further develop yourself as a business owner, in addition to making strong connections with others in the Armed Forces Community.
This session will be facilitated by Roger Cawte. Roger has over 20 years of business experience working with various SMEs as either owner, director, employee, or independent advisor.
Am I eligible?
This course is available for the following individuals (aged over 18):
VETERANS // SERVICE LEAVERS // RESERVISTS // REGULAR SERVICE // SPOUSES & PARTNERS // FIRST-DEGREE FAMILY MEMBERS
What can I do first?
If you have not already done so, please first sign up to the XFE Knowledge Exchange Hub here. This will give you exclusive and confidential access to business information, free events and peer-to-peer knowledge exchange. You will be invited to fill out a self-employment assessment questionnaire which will help us best guide you during the workshop.
For any queries, please call 0121 724 0655 or email us at events@x-forces.com
If you're serious about growing your business, do not miss this free workshop.
Date and time:
19 September 2023 9am-12.30pm
How to join the virtual event:
The virtual Masterclass will be hosted using Zoom, and you can join via most browsers, or use the Zoom app. You will be emailed further information including how to get online & join the virtual Networking Event for free.
If you would like to attend this complimentary and exclusive event, please click on the button below and complete the short form. Please note that spaces are limited.
For any questions, please email us at events@x-forces.com.