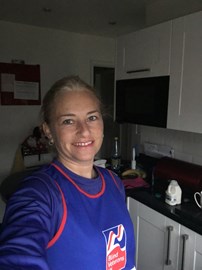 A woman from Cardiff is training to take on the 100k London to Brighton challenge for Blind Veterans UK, the national charity for vision-impaired ex-Service men and women.
Helyn Salt, 43, will be embarking on the challenge for the second time, having previously taken part last year. Helyn first came across Blind Veterans UK when her cousin, a Royal Marine of 17 years who also served in the Royal Electrical and Mechanical Engineers for eight years, introduced her to the organisation.
Helyn, who works for the Carers Trust, is no stranger to pushing her body to its limits, having previously competed in a number of half marathons. It wasn't until last year, when Helyn attended the charity's annual ski trip to Italy, that she became aware of the flagship event. She says: "I spoke with a few people who'd already competed in the event and it sounded incredible. While it's fair to say that running is my main event, I also do a fair bit of walking across the Pen y Fan mountains. Eventually, after a lot of deliberating, me, my cousins and a friend thought why not?!"
The decision was clearly a rewarding one, with Helyn relishing the mental and physical obstacles she faced during the event. She says: "It was definitely one of the hardest challenges I've ever done, but it was absolutely brilliant at the same time. We met so many people along the way and it's a fantastic feeling achieving something you'd never even considered doing before."
Indeed such was Helyn's satisfaction with last year's event that she's even considering running the event in its entirety this year. She says: "This year I've signed up to run instead of walk! It depends who else I know decides to also do it though, if they walk, I will too. The camaraderie during the event is great."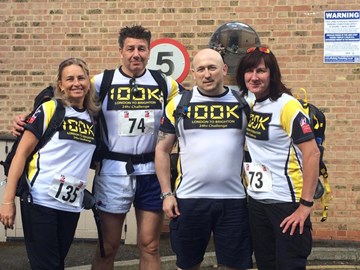 Despite most people viewing a 100k walk as one challenge too many, for Helyn, it simply represents one third of what promises to be an exhilarating, if exhausting, year. Aside from July's 100k London to Brighton event, Helyn will be running the Brighton Half and full Marathons in February and April respectively, both in aid of Blind Veterans UK. Helyn counts her background in charity work, and her time spent with Blind Veterans UK, as the motivating factor behind her decision to compete in three events that precious few would ever dream of taking part in. She says: "Over the last few years I have had the privilege to spend time with some blind veterans who are amazing and truly inspiring. These individuals have been through so much, they have not only served their country but are now having to rebuild their lives due to sight loss."
Registration for the 100k, which will kick off in Fulham on Saturday 1 July, is currently open with a registration fee of £62.50 for the 100k. For those not wanting to walk the full distance there is also a relay option available for teams of four walking 25k each. Teams taking part in the relay have a registration fee of £110. The all-inclusive entrance fee for participants includes lunch, dinner and breakfast at three rest stops, snacks and refreshments along the route and a free event t-shirt. You can find out more information and sign up at blindveterans.org.uk/100k.
The London to Brighton 100k challenge is Blind Veterans UK's biggest annual fundraiser and takes participants from a starting point in south west London, along the banks of the Thames, through countryside paths in Surrey, Sussex and the North and South Downs to the charity's centre in Ovingdean, Brighton.
To support Helyn as she takes on the 100k for Blind Veterans UK, please visit justgiving.com/fundraising/Helyn-Salt3.
For all media enquiries please contact: Felix Arbenz-Caines, PR Assistant, Blind Veterans UK, 12 – 14 Harcourt Street, London, W1H 4HD, E: Felix.Arbenz-Caines@blindveterans.org.uk, T: 020 7616 7941
Notes to Editor
Blind Veterans UK
Blind Veterans UK is a national charity that believes that no-one who has served our country should have to battle blindness alone. Founded in 1915, the charity provides blind and vision impaired ex-Service men and women with lifelong support including welfare support, rehabilitation, training, residential and respite care.
Find out more at: blindveterans.org.uk, follow us on Facebook at: facebook.com/blindveteransuk and on Twitter at: twitter.com/blindveterans.