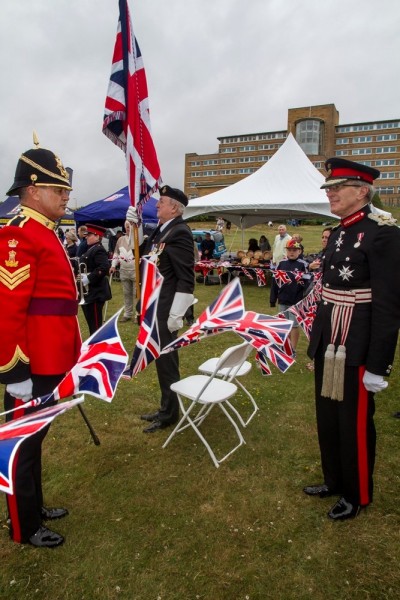 Local military charity Blind Veterans UK is hosting Brighton's Armed Forces Day celebrations this year. The charity, which supports vision-impaired ex-Service men and women, is bringing together Service charities and organisations in the area, giving a platform to showcase the work they do within the local community.
The special event, which will take place on 1 July, is being supported by military charities and organisations including the RAF Police Association South Downs Branch, SSAFA, The Royal British Legion and the Sussex University Royal Naval Unit.
There will be plenty of stalls, activities and challenges including have a go archery, inflatables and children's rides, a show of military and classic cars, a performance from the Salvation Army Band and a special appearance from the Band of the Welsh Guard..
The Cadets will be out in force with a tri-Service Cadet Kitkar Challenge, which is not to be missed. Local dance group Funky Feet and Sussex-based charity Owls Out and About will also be on hand to entertain guests. Many local blind veterans will be attending and helping out with activities on the day.
New this year is a dog show in the arena with prizes awarded for the waggiest tail, best trick, best outfit and 'looks most like their owner'. To enter, register on the day and pay £1 per category.
Rachel Chitty, Regional Fundraiser at Blind Veterans UK, says: "Armed Forces Day is a fantastic opportunity for us to welcome the local community to our centre and show our support to Service men and women both past and present, including the blind veterans we support.
"We have a jam-packed schedule of activities for the day so I think it's fair to say there will be something for everyone!"
Doors open at 10:30 and all the activities will run until 16:00. There is free entry and parking available for a £1 fee, but this may become limited so visitors are encouraged to get there early.
Blind Veterans UK was founded in 1915 and the charity's initial purpose was to help and support soldiers blinded in WWI. But the organisation has gone on to support more than 35,000 blind veterans and their families, spanning WWII to recent conflicts including Iraq and Afghanistan.
For more than a century, the charity has been providing vital free training, rehabilitation, equipment and emotional support to blind and vision-impaired veterans no matter when they served or how they lost their sight. If you, or someone you know, served in the Armed Forces, including National Service, and is now battling severe sight loss, find out how Blind Veterans UK could help by calling 0800 389 7979 or visiting blindveterans.org.uk.
For all media enquiries please contact: Ruth Moore, PR and Communications Executive, Blind Veterans UK, 12 – 14 Harcourt Street, London W1H 4HD, E: ruth.moore@blindveterans.org.uk, T: 020 7616 7955
Notes to Editor
Blind Veterans UK
Blind Veterans UK is a national charity that believes that no-one who has served our country should have to battle blindness alone. Founded in 1915, the charity provides blind and vision impaired ex-Service men and women with lifelong support including welfare support, rehabilitation, training, residential and respite care.
Find out more at: blindveterans.org.uk, follow us on Facebook at: facebook.com/blindveteransuk and on Twitter at: twitter.com/blindveterans.