In this, the centenary of the end of the Great War, we are holding a Remembrance Luncheon to remember the sacrifices of current and previous generations, celebrate our achievements of the last 100 years, and outline our strategy to meet the challenges ahead.
The lunch will be hosted by our President, General The Lord Richards of Herstmonceux, himself a distinguished former Chief of the Defence Staff; and our guest speaker will be The Right Hon. Tobias Ellwood MP, Minister for Defence People and Veterans at the Ministry of Defence.
The League was forged during the heat and savagery of the Great War. In 1915 a group of spirited London citizens got together to support the men and women deployed overseas as soldiers or nurses.  This aid, delivered from a Central War Hospital Supply Depot, involved the manufacture, packing and dispatch of vital medical supplies, gas masks, frostbite socks and mosquito nets to our deployed troops, and continued to the end of the war and beyond.
On cessation of hostilities in 1918 we adapted our operating model and adopted our current name.  Faced with enormous numbers of war widows without occupation or income, our volunteer citizens stepped aside to allow some widows to serve in the Supply Depots, providing them with a purpose in life and vitally, at a time of very limited State welfare provision, a stipend with which to sustain themselves and their children.  To honour the sacrifices of the fallen we called them Remembrance Workers, and still do. Since then we have helped many thousands of other people in similar need.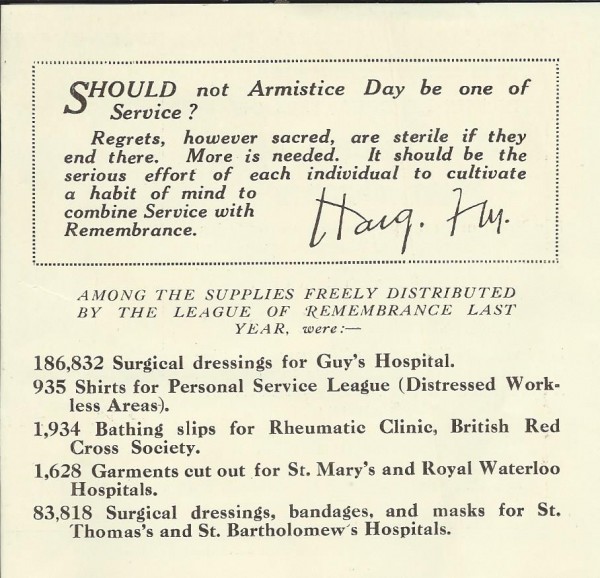 Today, we provide support to some 57 retired nurses, veterans, their widows/widowers and dependants to serve as voluntary Remembrance Workers helping in hospitals and hospices, mainly across London, but also in Buckinghamshire and Essex, and delivering over 11,000 hours of support to these institutions per annum. Our model is unique in that apart from bringing fresh purpose to their lives we support, enable and direct our beneficiaries in giving of their time, skills and experience to our hospitals and patients, thereby returning much greater value to the community and the individual than could ever be afforded otherwise.  We help people, to help themselves, through helping others – and long may this continue.
Picture: an appeal for support by FM Haig.