Veterans' charity Alabaré, who have nineteen homes and a range of wellbeing activities for homeless veterans or those at risk of becoming homeless, are passionate about ensuring that veterans get the individual support and access to opportunities that they need to rebuild their lives.  Alabaré's support is made possible thanks to the help of funders such as The Royal Navy and Royal Marines Charity and Greenwich Hospital who have supported the charity's vital work for many years.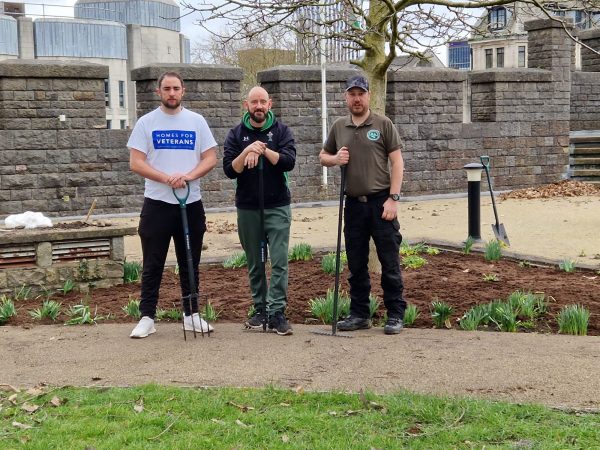 The grants that The Royal Navy and Royal Marines Charity and Greenwich Hospital make to Alabaré, mean that naval veterans across England and Wales who have struggled in their civilian lives can receive the help they need to overcome challenges and build new and positive lives for themselves.  Alabaré's approach mean that veterans are can benefit from the camaderie of living with others who have had similar experiences to their own, and in some cases go on to provide peer support for others.
One veteran who has recently benefitted from this help is Rhys.
Rhys is in his mid-thirties and is a Royal Navy veteran who found himself homeless.  Rhys was sofa-surfing until he came into Alabaré's Homes for Veterans.  Now 12 months later, Rhys says he is thriving, having made the decision to put his past behind him and seize the new opportunities he has.
Having settled into Alabaré's home, Rhys was happy to work with the Alabaré team to create a personal support plan that met his needs.  He agreed to join Alabaré's Boots on the Ground programme which runs a series of wellbeing activities primarily held in the outdoors and supports veterans' mental wellbeing.
Although initially tentative, with support Rhys took part in some fishing and hill walking activities with increasing enthusiasm.  As Rhys spent more time with the Alabaré team his confidence grew, and he began to encourage and inspire other residents to get involved, becoming a Buddy to Buddy peer mentor.  He took the lead in motivating a group to help build a local memorial garden and even transported others to get to the site.  As a volunteer Rhys has set up veterans' coffee mornings in local retirement homes and helped other veterans to make scrapbooks of their military history, listening with empathy and understanding to their personal stories.
Rhys is now looking forward to completing his training to become a HGV driver, and moving on to his own home.  He says:
"A year ago I was in such a difficult place.  Others might have given up, but Alabaré gave me a home and a chance to build a future.  I was completely honest with them, and they did not judge me, but gave me the support and opportunities I needed to move forward with my life.  Alabaré's Boots on the Ground team have helped me gain skills, confidence, and the ability to lead – they have made me a better person, and I am so grateful to them all. I hope that all veterans in need can benefit from Alabaré's support if they ever need it."
Anne Williams, Alabaré Veterans Operations Manager, says:
"We are hugely grateful for the support of The Royal Navy and Royal Marine's Charity and Greenwich Hospital who help fund our Homes for Veterans and Buddy to Buddy programme. Being able to support veterans such as Rhys to build strong and resilient civilian lives for themselves is what we are all about – we are so pleased for Rhys that he will be soon starting a new career and can move onto the next chapter of his life.  We can only make this difference thanks to the generosity of our partner charities who see the huge benefits of the homes and programmes that we run for veterans.  Our sincere thanks to them."
Mandy Lindley, Director of Relationships and Funding at The Royal Navy and Royal Marines Charity, says:
"Alabare's comprehensive support makes such a difference to the lives of veterans who find themselves in the most difficult of circumstances. By working with Alabare, the RNRMC can help Royal Navy and Royal Marines veterans, like Rhys, get back on their feet and towards successful, fulfilling futures after leaving the service."