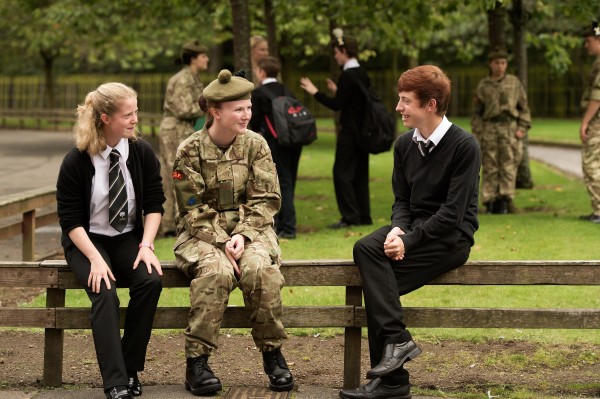 A new tri-service youth participation project which aims to improve support and services for children and young people from armed forces and veteran families living in Scotland has been given the green light today thanks to funding from ABF The Soldiers' Charity.
The national youth participation project, which will run for 3 years is being launched by Scotland's Armed Forces Children's Charity, the Royal Caledonian Education Trust (RCET).  The project has been informed by the success of a pilot series of mini-conferences, as well as a number of other 'listening to the voices of children and young people from Armed Forces families' initiatives that have been rolled out by the charity in recent years.
RCET Chief Executive, Colin Flinn explains, "Last Autumn, we held a series of Teen Talks events which brought together over 100 high school pupils from Armed Forces and veteran families to share their experiences and tell us about the challenges they face. Lack of stable education, friends moving around and losing touch, not seeing parents when on deployment, moving to unfamiliar countries, different educational systems, civilians not understanding their challenges, scary deployments and not knowing if and when a parent was coming home – were just some of the issues our young people highlighted.
"The feedback we received aligned with independent research * which recognises military lifestyle can come at a price; it can undermine friendships, impede academic performance and personal development. Left unchecked, this can last long into adulthood.
"What this research and our young people are telling us, is there is a clear need to improve the services and support available to them. They want their voices to be heard and it's why we have decided to launch this 3 year national youth participation project."
The funding for the initiative, which will target 12-24 years olds, has been given a significant jump start thanks to a £40k grant award by The Soldiers' Charity, which means RCET can recruit a Youth Participation Project Manager.
Director of Grants, Colonel (Ret'd) Barney Haugh CBE, ABF The Soldiers' Charity said, "ABF The Soldiers' Charity is very happy to be supporting the RCET national youth participation project, as we believe that supporting young people from military families is vital for their wellbeing. We are proud to support soldiers, veterans and their families in times of need, so are delighted to award this grant to help combat some of the issues and challenges that children from Army families can face."
Colin Flinn said, "This is a terrific sum of monies which means we can start recruiting immediately for a project manager who will engage with children and young people from Armed Forces and Veteran families across Scotland to identify the issues that are important to them; as well as determine how they would like to participate in the project and the partnerships that will help us achieve our aims."
During the first year of the project, RCET will be rolling out participation events and working with partners in communities across Scotland. There will also be a particular focus on identifying and encouraging participation from children and young people from hard to reach groups, including children with disabilities, children living in vulnerable families and children struggling with mental health. Therefore, the charity will be offering places on a new outward-bound programme for young people from more vulnerable families who may lack the self-confidence and esteem to join the project.
In addition to recruiting a Youth Participation Project Manager, RCET is also looking to recruit volunteers who will be trained to support the implementation of the initiative. If you are interested in any of these roles please contact RCET to register your interest or visit www.rcet.org.uk for more details.
Ends
For more information or interviews please contact: Jen Nash, Panache Communications, Tel. 07971 466220 jen@panachecommunications.co.uk
NOTES TO EDITORS
* Sources: "Military Families and Transition; Children's Education" (Centre for Social Justice, 2016)