Children at three RAF stations' nurseries have had stories read to them during a visit from a children's author as part of World Book Day.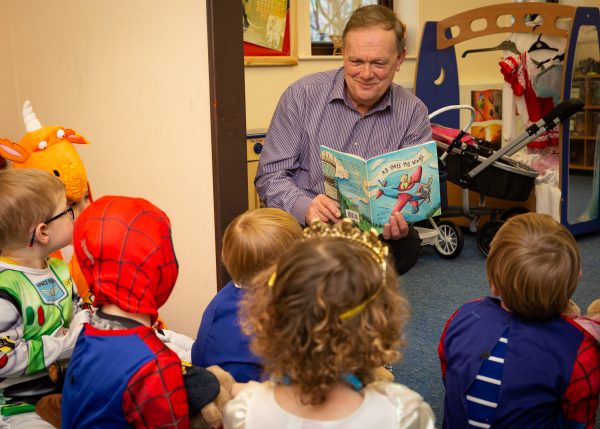 The children and employees at RAFA Kidz Cranwell, RAFA Kidz Odiham and RAFA Kidz Digby welcomed Richard Bland, author of AB Gets His Wings, a book aimed at children going through bereavement.
Richard's son, Andrew, committed suicide at the age of 31 in 2013, leaving his wife, child family and friends. Richard wrote the book, about a teddy bear who learns to fly with the RAF and experiences different emotions along the way, to help open discussions with children about how they are feeling.
AB Gets His Wings is one of several stories which serving RAF personnel can choose to record for their children to listen to while they are serving away from home, as part of the RAF Association's Storybook Wings audiobook project.
Richard, who is an associate member of IV Squadron at RAF Valley, said:
"I hope the book can teach young people about the importance of talking to their parents. If Andrew had spoken to us it would have been a completely different story."
RAFA Kidz Odiham Nursery Manager Kate Richards said:
"The children really enjoyed the reading of AB Gets His Wings as part of World Book Day. It was very kind of Richard to share his story with us, and we hope it plays some part in helping the children to better understand and talk about their emotions." 
Sales of AB Gets His Wings help to fund the work of the RAF Association, including welfare work, the Storybook Wings project and befriender visits to RAF veterans to help combat loneliness and isolation. Funds from the book also go towards bereavement counselling charity The Dove Service.
For more information about the RAF Association, visit www.rafa.org.uk
Media contact: RAF Association Communications Officer Alex Scoppie, 0116 268 8755 or email alex.scoppie@rafa.org.uk   
About RAFA Kidz  
RAFA Kidz is a wholly owned trading subsidiary of the charity, the Royal Air Forces Association. It delivers fun, affordable and nurturing early years childcare in a welcoming environment, on RAF stations.
About the Royal Air Forces Association 
The Royal Air Forces Association (or RAF Association) is a membership organisation and registered charity that has been providing welfare support to the RAF family for 90 years.
The Association recognises that RAF personnel and their immediate families dedicate their lives to their country, and we believe that such a sacrifice should not result in any form of suffering.
Our initiatives provide practical, emotional and financial support to tackle loneliness, isolation, worry and poverty among all generations of RAF personnel and their immediate family members.
We were a good friend to more than 85,000 members of the RAF family in 2018. They benefited from our wide range of services including befriending, mental wellbeing training courses, professional childcare training for spouses, bespoke casework support, and help to secure emergency grants.
Our refurbishment of RAF contact houses enables serving personnel to spend quality time with their families, and our provision of free Wi-Fi on stations helps personnel to stay in touch with loved ones.
The RAF Association, through its wholly owned company RAFA Kidz, also provides affordable nursery places for the children of RAF parents, who may be frequently relocated in their jobs and could otherwise struggle to find appropriate childcare.
Our membership of more than 70,000 includes serving RAF personnel, veterans and members of the public who want to show their support for the work that we do.
Charity numbers: 226686 (England and Wales), SCO37673 (Scotland).