Two competition winners took flight in a Spitfire after entering the Daily Express charity contest on behalf of the RAF Benevolent Fund.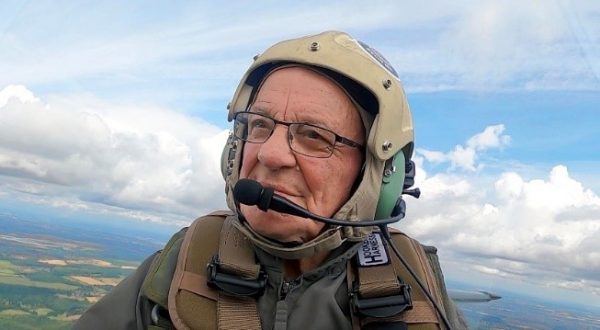 The two winners, Michael Parker, and Richard Wetherall won the competition to take to the skies in a Spitfire flight from the Biggin Hill Heritage Hangar in Kent.
The Daily Express partnered with flyaspitfire.com to run the competition, which was free to enter, with entrants encouraged to kindly donate to the Fund.
Both Richard and Michael took to the controls of the Spitfire to experience a flight of a lifetime in the famous aircraft from the Battle of Britain station.
Richard, from Surrey, whose father was in the RAF in the Second World War as an aerial photographer, was overjoyed to win the competition. He said:
"I never expected to ever fly in a Spitfire! It took me a while to believe it was actually true.

"The day was perfect. The weather was wonderful, and we all enjoyed our day. My wife, Jakki, two sons and their partners all flew in the chase plane. It was an experience we will never forget!"
Michael, known to many as Mick, from Lincolnshire, is proud to hail from 'Bomber County', living nearby RAF Cranwell and RAF Waddington with his wife Catherine.
Mick who fought in the 1950s Malayan Emergency in the Army, has always been fascinated by military aircraft. He remembers both German and British planes, including the Lancasters, flying overhead his home in Lincoln during the Second World War, being guided by the red light at the top of nearby Lincoln Cathedral.
Mick said of his passion:
"I have always been impressed by the performance and efficiency of the RAF display teams, especially the Red Arrows, and I am a huge fan of the Battle of Britain Memorial Flight. Equally, I have admired the Spitfire pilots' great efforts and bravery in the Second World War and have read many books about their exploits. To get the opportunity to fly in such an iconic aircraft was a dream come true."
Speaking on the day's events, Mick said:
"Climbing into the plane, I felt humbled by all those brave, young pilots who had done the very same under such different circumstances to defend our country, at which they succeeded. I felt privileged to be flying in the Spitfire from the Biggin Hill airbase which was such an important site during the Battle of Britain – it made the experience even more special.
He continued:
"My pilot Steve was patient and boosted my confidence, he made sure I was happy and understood everything following the briefing. Steve effortlessly flew us over the Kent Weald, Brands Hatch, and the Thames. I thoroughly recommend the experience!

"After the flight, Catherine and I had a guided tour of the hangars, with the knowledgeable Simon as our personal guide. That was a real eye-opener. I was provided with in-flight videos, badges, stickers, a book, and a large flight certificate confirming my flight in the Spitfire MT818, which is signed by Steve the pilot and myself."
Mick explained why he was proud to support the Fund, saying:
"I have long admired the many good works of the RAF Benevolent Fund, especially its input in the Bomber Command Memorial in London, but also its support for serving individuals, veterans, and young people.

"Finally, I wish to sincerely thank the RAF Benevolent Fund for its contribution to my flight in the Spitfire and I'm pleased that the competition attracted attention and brought necessary funds to the organisation."