NUHonours Awards are one of the ways Nottingham University Hospital say 'thank you' and recognises the exceptional contribution and hard work of staff who make up Team NUH. It was a record-breaking year for NUHonours Awards – with over 1,100 nominations received for staff, volunteers and fundraisers.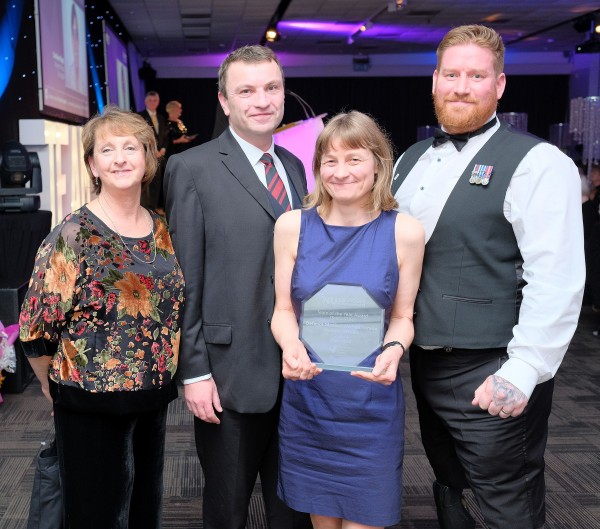 DMWS are delighted to announce that the charity won in the 'Team of the Year' category. The DMWS welfare team in Nottingham was recognised for its work in a special awards ceremony which highlights the incredible contributions of staff, volunteers and community partners across Queen's Medical Centre, City Hospital and Ropewalk House.
During the dedicated 'thank you' ceremony on the 23rd November, a special engraved glass memento commemorating the DMWS Welfare Officer's achievements; was presented to them by Chief Executive Tracy Taylor and Trust Chairman Eric Morton, in front of an audience of 400 invited guests.
DMWS Regional Manager, Beverley Young said: "The DMWS welfare team from Nottingham University Hospital NHS Trust are honoured to have won this award. The welfare officers have been working within the Trust since late 2017, supporting aged veterans and their families with welfare issues whilst they are in hospital. We are extremely grateful to all the staff and healthcare professionals who have wholeheartedly embraced the service and made referrals to the team."
Over 160 Aged Veteran beneficiaries in Nottingham have been assisted by DMWS, with everything from face-to-face specialist support whilst in hospital, through to assisting with welfare issues to enhance their hospital discharge and helping to preventing readmission. This has included helping to get safety equipment installed at home quickly and addressing social isolation by linking them into local community activity groups and befriending schemes.
Paul Gaffney, CEO of DMWS said: "I'm very proud of our welfare officers and the work they do, primarily in hospitals, both in the UK and overseas. We are focused on delivering the best possible service and constantly look at ways of improving. With the awareness these prestigious awards bring, our 75th Anniversary year is already shaping up as one to remember."
To find out about the work of the Defence Medical Welfare Service visit dmws.org.uk
Notes to editors:
For further information on DMWS please contact Lesley Rattue, Marketing and PR Manager on 01264 774009 or email fmm@dmws.org.uk
Registered Charity in England and Wales (1087210) and in Scotland (SC045460)
About St John and Red Cross Defence Medical Welfare Service (DMWS)
The St John and Red Cross Defence Medical Welfare Service (DMWS) has been providing a person-centred medical welfare service to the Armed Forces Community since 1943. In that time we have supported over 1,000,000 patients and their families, ensuring that no one goes through the worry of injury and illness alone. Our highly trained welfare officers provide practical and emotional support to those receiving medical treatment. Recent new projects with organisations such as the police, the NHS and the probation service demonstrates the broad appeal of the organisation and its application to a wide set of frontline services. We are available 24 hours a day, 365 days a year.