Scuba diving rehabilitation charity Deptherapy & Deptherapy Education has been shortlisted as a finalist in the 2019 Soldiering On Awards. These prestigious Military Awards recognise the outstanding achievements of those who have served their country, and the diverse people and groups who work together in support of the Armed Forces Community.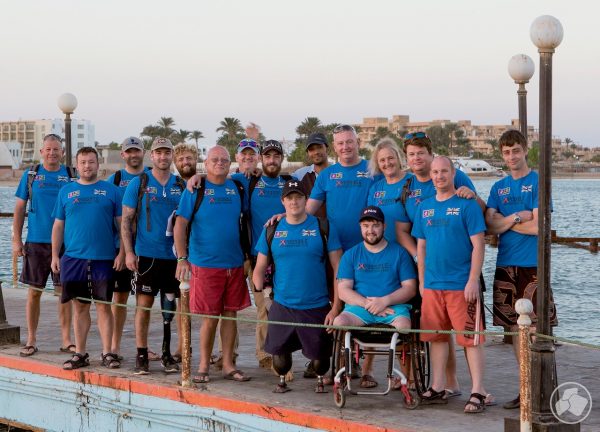 In 2018, Deptherapy was judged the winner in the Healthcare & Rehabilitation category of the Soldiering On Awards. This year, the charity is a finalist in the Education, Training and Development Award – sponsored by Capita. This Award recognises excellence in the provision of education, training and skills development in support of vocational or employment transition.
Now in their ninth year, the Soldiering On Awards are judged by an independent panel of leading business and military figures, headed by Soldiering On Awards President, General, the Lord Dannatt GCB CBE MC DL, and Vice President Debra Allcock-Tyler, CEO of the Directory of Social Change.
The judging panel will decide on the final recipients of the Awards following a reception at the House of Lords in February. The 2019 Soldiering On Award winners will be announced at a black tie ceremony on 5 April 2019.
Richard Cullen, Founder and Chairman of Deptherapy & Deptherapy Education said:
"We are honoured to have been shortlisted for this Award. This is a testament to the quality of Deptherapy's developmental programme and our aim to show Programme Members how to develop achievable goals, both in terms of diving and their everyday lives. It also speaks volumes of the 24/7 support that we provide for those in the 'Deptherapy Family.'
As a tiny charity, staffed wholly by volunteers, we are proud of what we deliver and our many Awards, but we are not complacent. We need to keep focused on fundraising and sponsorship, as without money we cannot deliver our programmes and the support to our veterans that so many desperately need."
Find out about the work of Deptherapy & Deptherapy Education at www.deptherapy.co.uk.
Ends
Notes for Editors
Image details:
Chairman and Founder of Deptherapy, Dr Richard Cullen, with Programme Members in Egypt. Photo – Dmitry Knyazev for Deptherapy
Deptherapy & Deptherapy Education is an English Charity registered with the Charity Commission. It seeks to rehabilitate UK Armed Service personnel and veterans who have suffered life changing mental and/or physical challenges through specially designed Scuba Diving Programmes. It also provides 24/7 support to Programme Members. Deptherapy is widely respected for changing the lives of those who come on the Programme. Many Programme Members have suffered limb loss and or acute mental illness. 80% of Programme Members suffer from PTSD or other acute forms of mental illness. The charity also provides education in adaptive scuba diving techniques to Dive Professionals.
For further information and / or images, please contact:
Jane Herbert – Associate Director Media & Communications – Deptherapy
jane@aquamedia-online.com
Tel: 07742 647800
Richard Cullen – Chairman – Deptherapy
ops@deptherapy.co.uk
Tel: 07786 361196