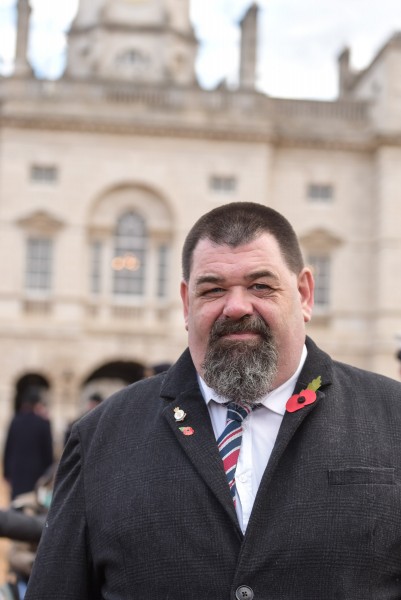 A blind veteran from Derby has marched at the Cenotaph in London this Remembrance Sunday (12/11) with the charity Blind Veterans UK.
Gary Stevenson, 50 and from Spondon, was supported to do this by local Specsavers stores including Burton-on-Trent and Derby. The stores raised over £200, money which went towards sending blind veterans, including Gary, to march.
Gary marched at the Cenotaph in London with more than 100 other blind veterans supported by Blind Veterans UK, the national charity for vision-impaired ex-Service men and women.
Gary says: "It was a brilliant experience. Sad, of course, but for blind veterans such as us, it was brilliant.
"This was my second year marching, and just like last year the crowd really made it a special occasion. To have the support of the general public while you're marching alongside your fellow veterans really makes a difference. I'd say for anyone who is ex-military, this is definitely something you should try to do at some point.
"I was marching next to a man who'd never been before, and I told him that the hairs on back of his neck would stand up due to all the clapping. When we were stood on Whitehall, he looked and me and told me they did. It's just such a surreal experience."
In 1989, Gary joined the Royal Corps of Transport as a stevedore and he was involved in the loading of ships at military ports. Gary served in Norway and in Saudi Arabia during the First Gulf War. Due to damage he had suffered in his knees, Gary was medically discharged as a Private in 1991.
It was years later, in 2009, that Gary lost his sight. After several months' of feeling unwell, Gary was advised by his GP that he had mumps. Soon after this, despite feeling on the mend, Gary had a stroke in the middle of the night. He says: "When I woke up that morning, I couldn't see a thing. From that moment on, I was blind.
"That was the end of my sight."
Gary was rushed to hospital where he was told that he did not in fact have mumps. Instead he discovered that he had meningitis, an illness which ultimately robbed Gary of his vision.
It was in 2014 when a Dolphin representative saw Gary wearing a veteran badge and consequently encouraged him to contact Blind Veterans UK. Gary has been receiving support from the charity since 2015.
Gary said: "The support I have received from Blind Veterans UK has been excellent. I went for an introduction week at their Sheffield Centre and the staff there were really welcoming and helpful. It was useful to find out what support I could have as, prior to that, I had been dealing with my sight loss alone for years."
Gary has been to IT training sessions from Blind Veterans UK and received specialist free equipment to help him with his sight loss. He has also taken part in the LifeWorks course at the Blind Veterans UK Llandudno centre, which helps younger veterans to get back into work.
Gary said: "The training Blind Veterans UK has given me has really made a big difference. I'm in the process of deciding what career path I'd like to go down but thanks to Blind Veterans UK I feel more confident and certain of what I would enjoy doing."
Gary marched with other veterans supported by Blind Veterans UK as part of the national Remembrance Sunday commemorations in London on Sunday 12 November 2017. The Burton-on-Trent and Derby Specsavers teams used collection buckets in store and ran running specs MOTs (cleaning and adjustments) for customers and passers-by. You can also support their activity online at blindveterans.org.uk/helpgary
Store director Linda Joyce, said: "We are all immensely thankful to our military service personnel and we were delighted to be able to fundraise for this prestigious cause.
"We were proud to lend our support to ensure that Gary and the other blind veterans are able to reach London and pay their respects to fallen comrades by marching to the Cenotaph this Remembrance Sunday."
Specsavers has supported Blind Veterans UK since 2012 and, as well as raising money for the charity, have referred a number of customers to them so they can access its support.
Chief Executive of Blind Veterans UK, Major General (Rtd) Nick Caplin CB says: "Remembrance Sunday is always a very poignant time for our blind veterans and it is fantastic that Specsavers were able to support them to get to march at the Cenotaph.
Blind Veterans UK is the national charity for blind and vision-impaired ex-Service men and women, providing vital practical and emotional support to help veterans discover life beyond sight loss. The charity estimates that there are currently 59,000 blind veterans that would be eligible to access its specialist support, most of whom are not currently aware of it.
If you, or someone you know, served in the Armed Forces or did National Service and are now battling severe sight loss, find out how Blind Veterans UK could help by calling 0800 389 7979 or visiting blindveterans.org.uk
For all media enquiries please contact: Mark Wheeler, PR Manager, Blind Veterans UK, 12 – 14 Harcourt Street, London W1H 4HD, E: mark.wheeler@blindveterans.org.uk, T: 020 7616 7980
Notes to Editor
Blind Veterans UK
Blind Veterans UK is a national charity that believes that no-one who has served our country should have to battle blindness alone. It provides blind and vision-impaired ex-Service men and women with lifelong support including welfare support, rehabilitation, training, residential and respite care.
Find out more at: www.blindveterans.org.uk, and follow us on Facebook at: facebook.com/blindveteransuk and on Twitter at: twitter.com/blindveterans.