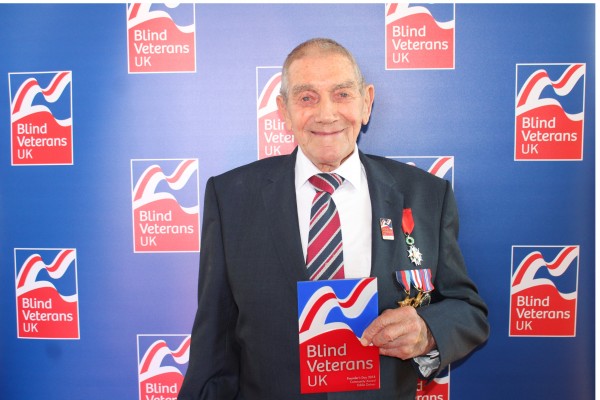 A blind Second World War veteran from Dorset has received a special award from military charity Blind Veterans UK for his outstanding work as an ambassador for the organisation over the last year.
Eddie Gaines, 93 and from Poole, received the award at the Blind Veterans UK Founder's Day Awards, held at the charity's training and rehabilitation centre in Brighton on Monday (26/03).
Eddie says: "I was so surprised when I got the letter telling me that I had even been nominated for the award. I was even more surprised and hugely honoured to find out I won!
"It was wonderful to come and meet all the other nominees and hear about what they've done. I said in my speech that I didn't think I deserved it but I will always be proud to represent Blind Veterans UK after all they have done for me."
He was nominated for the award by one of the charity's community support workers Lorraine Smith for his "unlimited enthusiasm and willingness to help Blind Veterans UK encourage others to receive support from the charity."
Amongst other things, Eddie recently gave a speech at the charity's Carol Concert at the St Marylebone Church in London, about everything Blind Veterans UK has given him. He also proudly displays a Blind Veterans UK flag in his garden in Poole.
Eddie left school at 16 and took up an engineer's apprenticeship. A bomb blast destroyed the firm where he was studying, ending his apprenticeship and he joined the Royal Navy in 1943.
After initially training on Motor Gun Boats at Portland, Eddie transferred to become a petrol stoker on landing craft. He and the other four crew of his Landing Barge Vehicle set off from Poole on June 4 in preparation for the Allied invasion of France. The Landing Barge Vehicle was initially transporting 35 tonnes of TNT and a bulldozer and they landed at Omaha Beach on D-Day.
They continued to work on Omaha Beach, transporting ammunition, equipment and men, for several months and he served in Normandy until Christmas Eve 1944. Last year he was awarded the Legion d'honneur for his part in the Liberation of France on D-Day.
He started receiving support from Blind Veterans UK in 2016 after losing his sight much later in life due to age-related macular degeneration, a leading cause of sight loss in older people.
Eddie was told about Blind Veterans UK after attending an exhibition at Poole library and has since received support, training and equipment to allow him to continue to live as independently as possible.
He says: "I am over the moon that the man at the library gave me the card for Blind Veterans UK and told me to get in touch. I came away from my first visit to their Brighton centre a new man.
"They have given me a special reader that magnifies documents to a huge size. It has allowed me to still look after my own correspondence. I've also recently started learning how to use a tablet computer. The last time I visited I asked if I could have a Blind Veterans UK flag so I could literally 'fly the flag' for the organisation outside my house!
"Like most blind people I still have a little bit of vision and every day when I see that flag fluttering it always reminds me how fortunate I am to be supported by Blind Veterans UK."
Chief Executive of Blind Veterans UK, Major General (Rtd) Nick Caplin CB says: "Our Founder's Day Awards are the highest honour Blind Veterans UK gives to the veterans we support.
"Every year we recognise the achievements of veterans like Eddie who have really demonstrated the values we hold as a charity. Eddie, along with the other nominees and winners are the shining examples of all that can be done to achieve victory over blindness."
Blind Veterans UK was founded in 1915 and the charity's initial purpose was to help and support soldiers blinded in WWI. But the organisation has gone on to support more than 35,000 blind veterans and their families, spanning WWII to recent conflicts including Iraq and Afghanistan.
For more than a century, the charity has been providing vital free training, rehabilitation, equipment and emotional support to blind and vision-impaired veterans no matter when they served or how they lost their sight. Visit blindveterans.org.uk/support to learn more about the charity and how you can support its vital work today.
ENDS
For all media enquiries please contact: Mark Wheeler, PR Manager, Blind Veterans UK, 12 – 14 Harcourt Street, London W1H 4HD, E: mark.wheeler@blindveterans.org.uk, T: 020 7616 7980
Notes to Editor
Blind Veterans UK
Blind Veterans UK is a national charity that believes that no-one who has served our country should have to battle blindness alone. It provides blind and vision-impaired ex-Service men and women with lifelong support including welfare support, rehabilitation, training, residential and respite care.
Find out more at: www.blindveterans.org.uk, and follow us on Facebook at: facebook.com/blindveteransuk and on Twitter at: twitter.com/blindveterans.