A national service of remembrance in Edinburgh has been cancelled due to the ongoing coronavirus restrictions. The dedication and wreath laying service at the Garden of Remembrance in the capital's Princes Street Gardens will instead be broadcast online for the first time.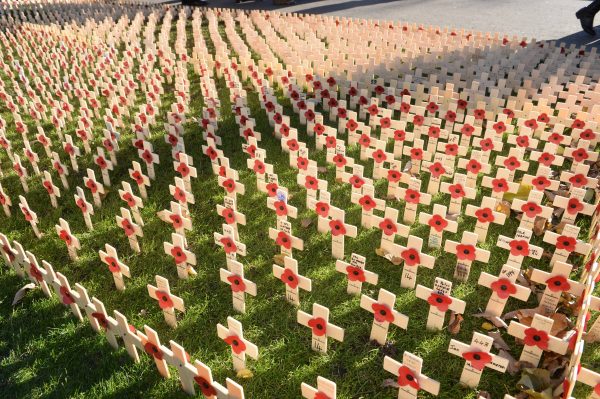 The annual service normally attracts hundreds of spectators who stand shoulder to shoulder beneath the Scott Monument to pay their respects to the fallen of the First and Second World Wars, and all conflicts since.  Due to the ban on outdoor events across central belt health board areas, and the risk it would pose to the public, Legion Scotland have been forced to adapt. They will be broadcasting a special service of remembrance live on their Facebook page from 1050 on Monday, ensuring the public can still join together in paying their respects.
Dr Claire Armstrong, Chief Executive of Legion Scotland, said:
"We are very disappointed that the opening of the Garden of Remembrance cannot proceed as planned, but we are determined to ensure that the public can still come together in remembrance of those who have made the ultimate sacrifice. Coronavirus must not be allowed to cancel remembrance, but public safety is paramount.

"Unfortunately, this is not the first time that we have had to adapt our plans this year. We undertook three major commemorations in the 75th anniversary of VE and VJ Days in May and August respectively, and the 80th anniversary of St Valery in June, with considerable success. The virtual programme of events reached millions and were arguably even more successful as a result of being taken online.

"We hope that everyone who would have joined us in Princes Street Gardens for the Service, and thousands of others, will be able to view the virtual service, which will begin around 1050 on our Facebook page. Poppyscotland will be broadcasting the virtual service live through their YouTube channel and Facebook page as well."
The service will be hosted by Legion Scotland National Padre Rev Dr Karen Campbell and will include a two minute silence at 1100.  The Rt Hon Lord Provost and Lord Lieutenant of the City of Edinburgh Frank Ross would normally be amongst the wreath laying party. Instead, a wreath was laid at the Garden of Remembrance on behalf of the City of Edinburgh by Deputy Lord Provost Joan Griffiths in private on Friday.
The Lord Provost said:
"While it is disappointing that we can't come together as planned to open the Garden of Remembrance this year, our priority has to be public safety. By adhering to the guidelines we are all playing our part in the fight against the coronavirus pandemic.

"Although physically not together, as with many areas of our lives, we can join in virtually and watch the poignant service online and my thanks to Legion Scotland and Poppyscotland for their work to make this possible.

"I urge residents to embrace new ways to donate to this year's Scottish Poppy Appeal and embrace the opportunity to observe the season of remembrance. Taking a moment to pause, reflect, remember and show our gratitude and appreciation for the enormous sacrifices that have been made – and continue to be made every day on our behalf – by courageous men and women."
The current Scottish Government guidelines on outdoor last until 2 November and further details on what will be permitted on Remembrance Sunday and Armistice Day are expected later this week.
Dr Armstrong continued:
"While we await clarity on how new guidelines will impact on Remembrance Sunday and Armistice Day, it is safe to say that these events, both at a national and local level, cannot proceed as they normally would. We are therefore urging all Legion Scotland branches, and other organisations who have responsibility for remembrance events in their local area, to take note of the guidelines and only to stage events that are safe and fully compliant."
She added:
"It is important to note that the Edinburgh Garden and Field of Remembrance is open to the public. While mass gatherings are not permitted, we would very much encourage the public to visit on an individual basis. I also urge everyone to support this year's Scottish Poppy Appeal. Thousands of Poppyscotland volunteers and Legion Scotland members are unable to collect as they normally would. Nevertheless, our Armed Forces community rely on the vital, life-changing support provided by Poppyscotland and they can only continue to deliver that through the funds raised during the Poppy Appeal."