A British Army veteran is set to cycle 500 miles from Vietnam to Cambodia this November to raise money for Blind Veterans UK, the national charity for vision-impaired ex-Service men and women.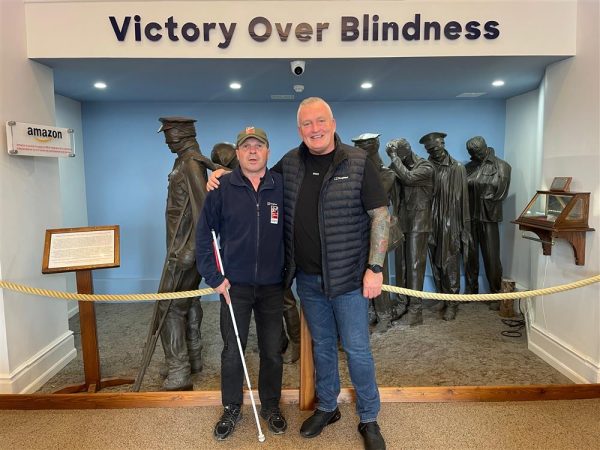 Colin Warner, who is 61, lives close to the Blind Veterans UK Centre of Wellbeing in Llandudno and decided to fundraise for the charity as he previously served alongside blind veteran Billy Baxter.
Billy is supported by the charity after he lost his sight during active service in Bosnia, while both men were serving with the 1st Royal Horse Guard Artillery. Colin's father has also recently been registered blind.
Colin says:
"I got in touch with Blind Veterans UK and found out that Billy also works for the charity at their centre in Llandudno and it felt even more pertinent that I should support them with my challenge.

"The charity arranged for me to meet Billy and we laughed and shared stories from our time in the military.

"I hadn't realised how much Billy had struggled with his sight loss; he explained that if it wasn't for Blind Veterans UK he'd be in a very bad place.

"I spent three hours with him at the Llandudno Centre and there was no doom and gloom, not from Billy nor from any of the other veterans I met. It is such a positive place and I'm honoured to be raising money to support them."
On 19 November, Colin will travel to Vietnam and embark on seven days of cycling as part of a group of 28 others who are each supporting their own charities.
Colin says:
"I visited Vietnam about three years ago and stayed for four weeks travelling around on trains, planes, and automobiles. I am looking forward to seeing the country from my saddle. I'm excited to go back to Ho Chi Minh and to sail down the Mekong Delta into Cambodia. In Cambodia we will pass through the Healing Fields which will be very emotional.

"I've been training ready for the ride and trying to cycle around 300 miles a week to replicate what it will be like."
Colin has already raised over £1,600. His employer, Siemens Energy, has committed to match fund up to £1,500. If you would like to support Colin in reaching his target of £4,000 for Blind Veterans UK, please visit his Just Giving page: justgiving.com/fundraising/colinjackwarner
If you are inspired by Colin and would like to take on a challenge for Blind Veterans UK visit the charity's website: blindveterans.org.uk/fundraise
Blind Veterans UK supports thousands of blind veterans across the country, but knows there are many thousands more who still need its support to rebuild their lives after sight loss.
If you, or someone you know, served in the Armed Forces, including National Service, and are now struggling with sight loss, then please get in touch. Call 0800 389 7979 or visit: blindveterans.org.uk/gethelp