Visitors were today treated to an exclusive preview of the innovative OurEnterprise Veterans' Campus at Wilton Hill, in Wilton, near Salisbury, ahead of the first veterans moving in later on this summer.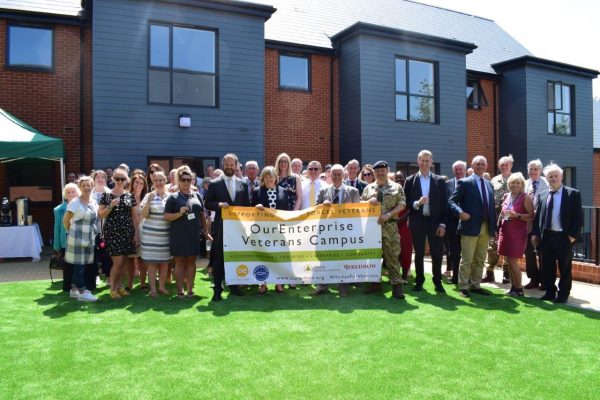 The event, sponsored by OurEnterprise and Redrow Homes, marks the forthcoming Armed Forces Day celebrations in Salisbury and starts to promote the scheme to the military community.
A number of local political and military dignitaries were among those who attended, including Baroness Scott of Bybrook OBE, leader of Wiltshire Council, Councillor Pauline Church and the High Sheriff of Wiltshire, David Scott.
The pioneering development for Armed Forces veterans is being built on the former Land Command HQ in Wilton by social developer OurEnterprise, house builder Redrow Homes, and the Wilton Community Land Trust, with Alabaré appointed as housing manager operator. The scheme is part-funded by cash allocated from the Chancellor from the Armed Forces LIBOR Fund.
The 44-unit Veterans' Campus will be the UK's first purpose-built community for veterans conceived to enable them to access high-quality training, work-based opportunities, and support to facilitate their successful transition to civilian life, all under one roof. It will also open up the veterans' skill base to regional employers and help match talent to opportunity.
Wider facilities on offer will also include a café and Enterprise Hub, with Phase 2 seeing the opening of a new business centre (due for completion in 2020), which will support both local businesses and veterans-led enterprise.
Also attending today's event were representatives from OurEnterprise, which founded the scheme, partners Redrow Homes and the Wilton Community Land Trust, and Alabaré, the Armed Forces charity managing the veterans' housing.
The latest steps in the development were welcomed by Baroness Scott who commented;
"I am delighted to be here today to see the progress of this exciting and innovative project. This campus for veterans will be a superb facility and will enable them to access services and facilities as they make the transition from military to civilian life.
It is particularly fitting to be here today as tomorrow is the start of three days of the Armed Forces Day National Event celebrations in Salisbury. We'll be joined by thousands showing their support for our Armed Forces, veterans and cadets and saying thank you for all they do to protect us and keep our country safe."
Matthew Bell, Chairman of OurEnterprise said;
"This is a unique scheme to provide training, employment and housing on a site with a military  history. We will see over the next few months its twin aims achieved – services for veterans and facilties for the wider community. I want to thank all our partners in working together to achieve this remarkable development."
Andrew Lord, Alabaré Chief Executive said;
"We are extremely excited as this pioneering project draws ever closer to completion. The facilities on offer will help to transform the lives of those who have so dutifully served our country and cannot wait to welcome them."
John Fletcher, managing Director of Redrow Southern Counties said;
"We are delighted to sponsor this event and partner with OurEnterprise on this ground-breaking project at our growing community, Wilton Hill. 
"Redrow is committed to not only providing high-quality housing for veterans when they leave the services but providing an enterprise hub where they can develop their skill set and undertake training. This project will ensure companies like Redrow can utilise veterans' talents and help them to secure good positions in key sectors like construction, where there is a widening skills gap.
"We hope this project inspires other housebuilders to reconsider how new communities can be constructed so that we deliver much-needed housing whilst developing people's skills and a true sense of community all in the same space."
Editor's Notes:
OurEnterprise is a social developer pioneering new forms of community regeneration with social impact. The OurEnterprise Veterans Campus is a partnership between OurEnterprise, Redrow Homes and Wilton Community Land Trust, with Alabaré appointed as housing manager and operator. The OurEnterprise Veterans Campus was the vision of OurEnterprise founder and social entrepreneur, Matthew Bell, who developed a unique model linking veterans with community, housing and enterprise opportunity to create "community and social infrastructure" that is economically sustainable and adds value to the local economy while simultaneously tackling critical social needs.
For more information or to arrange an interview call Matthew Bell on 07932 667092.
Wilton Hill is a Redrow development just outside of Salisbury, Wiltshire, comprising a mix of three to five bedroom private homes from Redrow's award winning Heritage Collection. In addition, Redrow is working with OurEnterprise to provide apartments, homes and community and enterprise facilities for veterans and residents, all with support from the surrounding community.
Redrow was established in 1974 by Steve Morgan CBE. Over Redrow's history, spanning more than 40 years, it has earned a unique reputation for quality and building beautiful homes where people want to live. To help achieve this, Redrow has developed three sustainable business themes: Creating Thriving Communities by Building Responsibly and Valuing People. Implementing this strategy, whilst engaging with colleagues and stakeholders, helps Redrow deliver significant value to investors and the wider community. Redrow is listed on the London Stock Exchange and is a constituent of the FTSE 250 index.
In 2019, Redrow achieved the coveted Five Star Customer Satisfaction award from the Home Builders' Federation (HBF), while in 2018 the company was named as a UK Top 100 Apprenticeship Employer for the fifth consecutive year. Redrow was also awarded the prestigious title of 'Housebuilder of the Year' at both the WhatHouse? and Building Awards last year. Visit redrow.co.uk for more details.
Media enquiries:
Instinctif Partners | +44 20 7457 2020 | redrowcorp@instinctif.com
Wilton Community Land Trust is a local community based organisation with the aims of securing more locally available affordable housing and encouraging more sustainable development.
Wilton Community Land Trust worked to influence the development on the former Erskine Barracks site and continue to be closely involved in shaping the regeneration of the site.
Alabaré's Homes for Veterans provides accommodation and support for veterans who are homeless or at risk of becoming homeless. We have 23 Homes for veterans across the South and South West of England and across Wales, which can collectively house 115 veterans at any one time.  Our first Home for Veterans opened in Plymouth in 2009 and today we are the largest provider of supported housing for homeless veterans of working age outside of London.
At Alabaré we support people to overcome the barriers of homelessness, mental ill-health and learning disabilities in-order to have a home, health, choice and independence.
For more information or to arrange an interview call Harvey Taylor at Alabaré on 01722 344485.