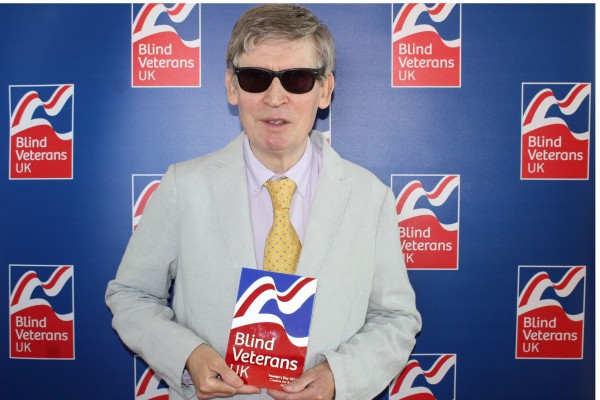 A blind veteran from Fareham has received a creative art award from military charity Blind Veterans UK for his outstanding achievements in art and photography.
Will Phillips, 60, received the award at the Blind Veterans UK Founder's Day Awards, held at the charity's training and rehabilitation centre in Brighton on Monday (26/03).
Will says: "It's the third year I've been nominated for a Founder's Day Award so I was secretly thinking, 'It's got to be this time!' It's a proud day and I can honestly say that if it weren't for Blind Veterans UK I would never have had the confidence to challenge myself again creatively."
Will was nominated for the award by Louise Partridge, Art and Craft Supervisor at Blind Veterans UK, and Hattie Lockhart-Smith, Art and Craft Instructor at Blind Veterans UK, for his "infectious enthusiasm" and "pioneering photography."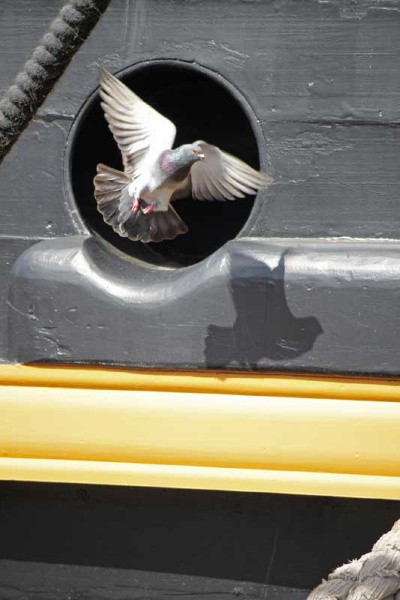 Amongst his achievements Will has won a prize for a photograph exhibited by the Army Arts Society in 2015, and his photographs are currently on show as part of ABF The Soldiers' Charity's Images on Parade touring exhibition. On 14 May nine of Will's photographs will go on display at Portsmouth Central Library as part of the VI Photographer's Exhibition.
Will also attends ceramics and art classes at Ashcroft Art Centre, where he sculpts and creates ceramics alongside people without vision impairments.
Will is affected by stationary retinal vein disorder, which prevented him from joining the Regular Army, his dream career. He instead studied product design and photography at Portsmouth College of Art & Design and joined the Territorial Army (TA), where he served from 1975-1979 in the Army Catering Corps.
Will says: "I'm now severely sight-impaired. The vision in my left eye is completely blurred and simple things like changes in light can make it very difficult to orient myself. Losing my sight really affected my confidence and I stopped doing the things I loved, like photography, because I found it too frustrating."
Fortunately Will began receiving the support of Blind Veterans UK in 2013. He was provided with training and equipment by the charity and encouraged to take up photography, ceramics and creative arts by staff and fellow blind veterans.
The charity's art and craft instructors were so impressed with Will's work that they even encouraged him to set up an online gallery with Outside In, an organisation that supports marginalised artists and gives them a platform to showcase their work.
Will says: "The training and support of Blind Veterans UK has helped me not only regain my confidence in art and photography but also to challenge myself to try new techniques. I've also had the chance to encourage and be encouraged by other vision-impaired people like myself to try creative art and photography, which has been hugely rewarding."
Chief Executive of Blind Veterans UK, Major General (Rtd) Nick Caplin CB says: "Our Founder's Day Awards are the highest honour Blind Veterans UK gives to the veterans we support.
"Every year we recognise the achievements of veterans like Will who have really demonstrated the values we hold as a charity. Will, along with the other nominees and winners are the shining examples of all that can be done to achieve victory over blindness."
Blind Veterans UK was founded in 1915 and the charity's initial purpose was to help and support soldiers blinded in WWI. But the organisation has gone on to support more than 35,000 blind veterans and their families, spanning WWII to recent conflicts including Iraq and Afghanistan.
For more than a century, the charity has been providing vital free training, rehabilitation, equipment and emotional support to blind and vision-impaired veterans no matter when they served or how they lost their sight. Visit blindveterans.org.uk/support to learn more about the charity and how you can support its vital work today.
ENDS
For all media enquiries please contact: Ruth Moore, Communications and Marketing Assistant, Blind Veterans UK, 12 – 14 Harcourt Street, London W1H 4HD, E: ruth.moore@blindveterans.org.uk, T: 020 7616 7955
Notes to Editor
Blind Veterans UK
Blind Veterans UK is a national charity that believes that no-one who has served our country should have to battle blindness alone. It provides blind and vision-impaired ex-Service men and women with lifelong support including welfare support, rehabilitation, training, residential and respite care.
Find out more at: www.blindveterans.org.uk, and follow us on Facebook at: facebook.com/blindveteransuk and on Twitter at: twitter.com/blindveterans.