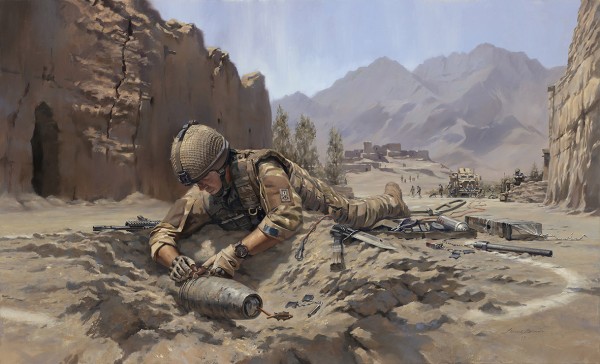 Bomb disposal charity Felix Fund will hold its first art exhibition and auction of original works from 5th September 2017 to 8th October 2017.
Felix Fund, a charity providing welfare support and financial assistance to bomb disposal operatives, opens its first art exhibition at the Cornerstone, Didcot, on Tuesday 5th September. All the artwork which will go on display has been created by either serving military personnel or others with links to the bomb disposal community, making it a truly unique exhibition.
The pieces will be open for public viewing for one month before Felix Fund holds an auction of everything in the collection. This invite-only auction, generously sponsored by local business Thomas Merrifield Estate Agents, will be held on Tuesday 3rd October, and all proceeds will go to Felix Fund to support their vital work. Once the exhibition is open, anybody wishing to submit a bid before the auction opens will be able to do so via the Felix Fund website or via a form at the gallery.
Melanie Moughton, CEO of Felix Fund, said of the project:
"Charities need to keep their income streams and fundraising activities as diverse as possible to help encourage a wider audience to support and get involved. With so many talented artists serving in the Explosive Ordnance Disposal community it was an ideal opportunity to raise money for the charity in this way whilst promoting the individuals' work."
James Merrifield, Director of Thomas Merrifield Estate Agents, explained his decision to sponsor the exhibition and auction:
"We are often approached to support local charitable causes, and when Felix Fund came to us we knew this was something we very much wanted to get involved with. We are delighted to support Felix Fund's admirable work through this unusually artistic route, and look forward to seeing the artworks when they go on display on 5th September."
Felix Fund works to provide therapeutic breaks to bomb disposal heroes and their families, as well as offering support through welfare and rehabilitation facilities and hardship grants. They are here to support the well-being of any military or SO15 (Metropolitan Police Counter Terrorism Unit) personnel who have conducted or assisted with Explosive Ordnance Disposal (EOD) and search duties.
To place a bid, donate to Felix Fund's cause, or for more information about the work that Felix Fund does, please visit www.felixfund.org.uk or contact Melanie Moughton at enquiries@felixfund.org.uk.
For editorial enquiries, contact 0131 357 8977 or email pr@redheadpr.co.uk
Ends 
Follow redheadPR on Twitter and like them on Facebook
Visit www.redheadpr.co.uk
Find out more about founder and managing director, Sara Tye