This December, Worthing-based charity Care for Veterans has had lots of festive cheer at its annual Christmas events, and raised over £8,000 towards the care and rehabilitation of disabled veterans.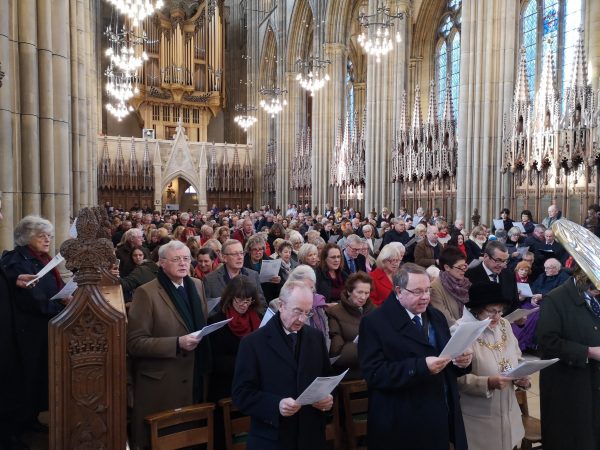 The charity's annual Christmas Bazaar saw hundreds of visitors through the doors, who browsed the attractions and stalls and enjoyed mulled wine and mince pies. Children won prizes on the tombola, visited Santa in his grotto, and even petted real owls and donkeys. The event raised £4,000.
Then, last weekend saw Care for Veterans' 14th annual Carol Concert at the stunning Lancing College Chapel. The sold-out event welcomed more than 500 members of the public, as well as the Care for Veterans' choir made up of veterans, their family members and volunteers. The concert raised over £4,000 and the service was led by Care for Veterans' Chaplain, Reverend Beverley Miles and featured wonderful performances from local choir, Worthing Voices with 'Cantamus'.
Senior Fundraiser at Care for Veterans, Christine Gillott, said,
"We'd like to thank everyone who supported our Christmas events and helped us to raise these vital funds for the charity and our veterans. Thanks to all who came along and joined in the fun, and also to our hard-working volunteers who helped at each event. The money raised will go to fund vital care and rehabilitation for our veterans, for example physiotherapy to help keep them as mobile and independent as possible. This incredible amount of money will be very well spent on those in our care this festive season, and we send our gratitude to all who made this possible."
About Care for Veterans
Care for Veterans (formerly The Queen Alexandra Hospital Home) was established in 1919 – the charity celebrates its centenary this year.
Care for Veterans is a registered charity, providing care and rehabilitation for physically disabled ex-Service personnel and their families. Our residents' needs are complex and many have multiple disabilities. Many have an Acquired Brain Injury and some have neurological disorders such as Parkinson's or Multiple Sclerosis. Others are paralysed or do not have use of their limbs and some are terminally ill. We support on average 140 residents a year.
We care for up to 60 residents at any one time.
Our residents are aged between 34 and 96.
Our residents represent the tri-services: Royal Navy, Army and RAF.
Services at Care for Veterans include nursing, physiotherapy, occupational therapy, speech and language therapy, an active social and recreation department, rehabilitation kitchen, a chaplaincy service, counselling, IT facilities, a rehabilitation garden, sensory room, function room, and regular outings on our specially adapted coach.
With no regular government funding, Care for Veterans must raise over £1.9 million each year to maintain its nursing and rehabilitation services for ex-Servicemen and women.