Eight military veterans will be funded to receive vital help as part of their civilian rehabilitation, following a series of sponsored walks held by teams at Wilkin Chapman solicitors.
As part of the firm's commitment to supporting Armed Forces personnel, its offices in Grimsby, Lincoln and Beverley, supported by those in the Wolds and the Doncaster Business Solution team, organised the festive stride-outs in December as part of the national Walking Home For Christmas campaign. The campaign itself was launched across the UK by the charity Walking With The Wounded.
The total fund-raising for the walks was £5,600 – surpassing an initial target of £4,725 and therefore enough to support eight veterans through bespoke mental wellbeing rehabilitation programmes. In additional to that total, Wilkin Chapman raised £1,000 from events during the 2019, Armed Forces Day, which was presented to Walking With The Wounded at the same time, making a total of £6,600.
Wilkin Chapman Partner and Military sector lead, James Marsden was delighted to present the money to the charity's corporate sponsorship and development manager Joel Oxberry. The presentation took place at The Collection Museum in Lincoln where The Century of Valour exhibition is being held. Featuring in the displays at the exhibition, of which Wilkin Chapman is a sponsor, is the famous Victoria Cross of Wing Commander Guy Gibson.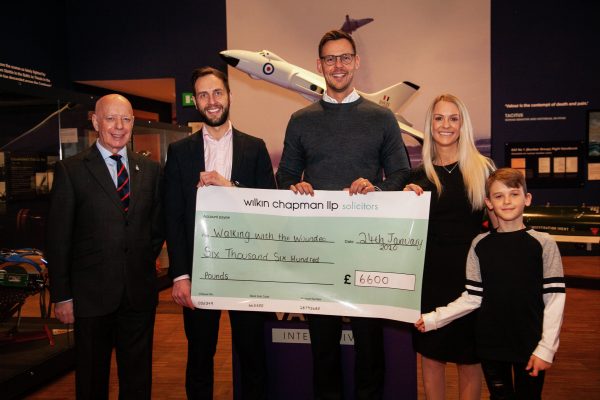 Picture: Wilkin Chapman Partner and Military sector lead James Marsden (centre left) and colleague Louisa Donaghy (centre right) present the cheque to Joel Oxberry of Walking With The Wounded. Looking on are North East Lincolnshire's Armed Forces Champion Alex Baxter, left, and Toby Donaghy who was awarded a certificate for raising £311 on the Grimsby walk.
Joel said:
"Being a charity, we depend greatly on the generosity of organisations like Wilkin Chapman. In truth, it's only due to committed companies, and the individuals that make up their workforces, that we are able to support veterans in need with mental health and employment support. We're proud to partner with Wilkin Chapman and are thankful for their consistent support over the past year.

"Importantly, we look forward to working with the team once again as we celebrate 10 years since establishing Walking With The Wounded and its services to support military veterans who have fallen on hard times post service," he added.
Joel's colleague, Partnerships and Events Manager, Andy Sloan, added his thanks, saying:
"Thank you to everyone at Wilkin Chapman for taking part in Walking Home For Christmas and walking to support those who have served. It's a great team-building event and seeing each office get involved was inspiring. The team has raised an incredible amount. Your extraordinary fundraising efforts will enable us to make life-changing differences to veterans throughout the UK in our 10th anniversary year."
On behalf of Wilkin Chapman, James said:
"In supporting veterans in this way, we also hope to raise the profile of the help that can be required by former Armed Forces personnel. Of course, there are many who will successfully re-join civilian life, but those who do not deserve our respect and our help. Everyone here at Wilkin Chapman is delighted to have helped in this way."
ENDS
Notes to editor:
Wilkin Chapman's position at number 106 in the Lawyer's Top 200 UK Law Firms for 2019 sees it retain its place as the leading law firm in Lincolnshire and East Yorkshire with an unrivalled breadth and depth of expertise and experience.
With 46 partners and over 450 members of staff located across a network of legal offices in Grimsby, Lincoln, Beverley, Louth, Horncastle, and Wilkin Chapman Business Solutions in Doncaster, the firm provides trusted legal and insolvency advice to both private and commercial clients who are based locally, nationally and internationally.
The firm is also extremely proud of its 2019 rankings in Legal 500, which is the most comprehensive directory of global law firms. Using extensive research combined with clients' experiences, Legal 500 has ranked Wilkin Chapman as amongst the best there is in the UK in 14 specialist areas, with a plethora of lawyers and partners praised for their excellent expertise, innovative approach and client service.
Wilkin Chapman's strength in key sectors including Housing and Development, Agriculture and Food, Energy and Renewables, Tourism, and Local Government is supported by its expertise in employment, corporate and commercial and real estate as well as all aspects of private client work. The firm adopts a holistic approach to providing professional legal services, but always with the client at its very heart.
The firm is also listed within several other leading UK legal directories and received awards for the quality of its work, including:
The Chambers UK 2019 guide – Wilkin Chapman received twelve practice area and solicitor recommendations.
The Lex 100, the student guide to the UK's premier law firms. Trainees describe Wilkin Chapman as a 'really supportive and friendly environment', 'everyone is approachable' and they 'really appreciate its values, ethos and reputation' and has a 'diverse and varied workload'.
In 2014, the firm's specialist and nationally recognised debt recovery and insolvency department achieved ISO9001:2008 certification.
In 2019, the firm was awarded the Armed Forces Covenant Silver award which recognises the outstanding support for our armed forces from employers.