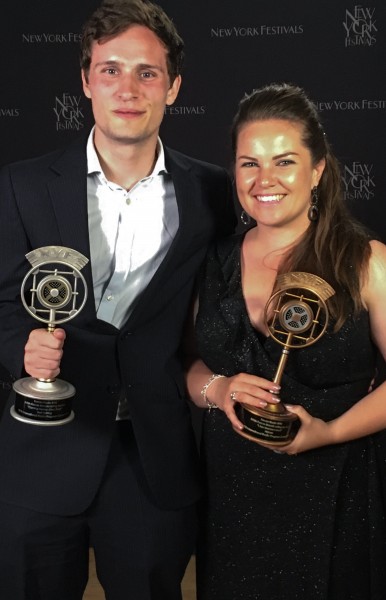 Two radio documentaries produced by Forces Radio BFBS have won Silver and Bronze trophies at the 2018 New York Festivals Radio Awards in Manhattan.
I Am Unconquered took Bronze in the Heroes category in the Information/Documentary group. The programme follows four British Invictus Games athletes through their everyday struggles and explores the transformative power of sport.
It was created by Will Warren – a Forces Radio BFBS Producer – and Poppy Pawsey, a former Royal Marine bandswoman. Poppy is new to the world of broadcasting and has been studying at the Forces Media Academy since October 2017. The Academy was established to nurture the talents of creative ex-servicemen and women and adapt their skills for the media industry.
As an Invictus Games athlete, Poppy also features in the documentary. On receiving her award, she said: "I'm so humbled to have been honoured with this award. I truly believe that the best stories come from the heart. I'm so proud to share these real stories about my amazing team mates from the Invictus Games, their resilience during their darkest moments, and not letting their injuries define them. This award is for them all."
Will Warren also produced Coming Home: Chris Thrall, which won Silver in the Best Editing category in the Craft group. Told in the first person, this documentary is the story of a former Royal Marine who turned to a life of organised crime and drug addiction following a failed career as a businessman in Hong Kong.
Will said: "I'm immensely proud that the work that Poppy and I have produced has been recognised by this incredible organisation.
"Telling extraordinary human stories about our armed forces is something close to both of us and we hope that we have done justice to their stories of conflict, sacrifice and bravery."
These award-winning documentaries from Forces Radio BFBS are both available online now:  www.forces.net/news/i-am-unconquered-powerful-stories-behind-invictus and www.forces.net/radio/northern-ireland-hong-kong-tale-drugs-organised-crime-redemption
Note to Editors:
About the Forces Media Academy
The Academy was set up in 2017 with a £1.8m grant from the Chancellor's LIBOR Fund. The Royal British Legion has contributed £800,000 to support the Forces Media Academy which offers veterans a unique opportunity to gain new skills and qualifications in media production after leaving the Services. The contribution from the Legion will cover the living expenses for 15 academy students annually for the next three years. Forging new careers and developing different skills after the Armed Forces can be challenging and the Legion is dedicated to supporting veterans' transition back to civvy street at any point in their lives.
About the Forces Network
The Forces Network is part of the Services Sound & Vision Corporation (SSVC), a military charity that informs, entertains, connects and champions the Armed Forces. SSVC also includes:
FORCES RADIO BFBS
FORCES TECHNOLOGY BFBS
FORCES LIVE EVENTS (CSE)
FORCES CINEMAS
FORCES MEDIA ACADEMY
FORCES NEWS
FORCES SPORT
FORCES TELEVISION BFBS
FORCES TV
GURKHA RADIO BFBS
SSVC TRAINING
SSVC WELFARE
SSVC MEDIA INNOVATIONS
-Ends –