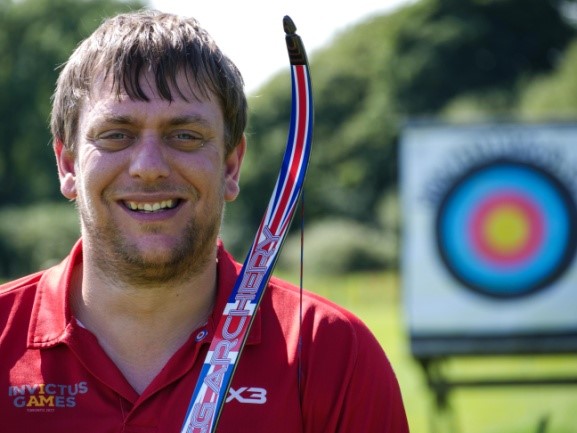 Former Senior Aircraftsman Matt Neve has been selected to represent the United Kingdom in the archery event at the Invictus Games in Toronto.
Matt, who lives in Swansea, will join 90 other wounded, injured and sick UK military personnel and veterans as they compete in the third Invictus Games competition, following the inaugural event in London in 2014.
Matt, now 32, joined the Royal Air Force as a driver in 2001 at just 16-years-old.
In October 2004 Matt was medically discharged from the RAF with PTSD.
Matt reflects: "When I was discharged, I received very little support. My relationship with my wife began to break down and I became very angry at the world. In 2015, I started a new job and it was a particularly difficult time for me."
In June 2016, Matt took part in an archery taster session, after a friend advised him of the physical, psychological and social benefits sport can often have.
Matt says: "When I'm drawing the bow I'm only thinking about one thing; hitting that target. It allows me to focus my attention and forget about everything else around me.
"When I took part in the taster session and one of the coaches said I had a natural ability in archery, it felt great and that's where the Invictus Games dream started really."
Matt approached the RAF's leading welfare charity, the RAF Benevolent Fund for support in funding his archery equipment to enable him to continue his sport recovery.
Following successful try-outs earlier on in the year, Matt was notified last month that he has made the Invictus Games UK squad.
He says: "To be selected for the team was huge; it gave me a real sense of pride! It helped me realise that perhaps I am worth something and can achieve my goals if I work hard. I had a real sense of achievement and self worth."
Since then, Matt has been training four days a week and admits: "My focus now is to bring back the gold!
"My wife and children will be joining me in Toronto which will be great. People often forget about the families, but I wouldn't be where I am today without the support of my family.
"Sport has helped my recovery by giving me something to focus on other than my mental health, it helps me switch off and focus.  It makes me look forward to what I can achieve and aspire to. Most of all it makes me believe in myself."
Paul Hughesdon, Director of Welfare and Policy at the RAF Benevolent Fund, said: "The rehabilitative nature of sport has been well documented and Matt is a prime example of the difference it can make. We are incredibly proud to have been able to help him on his journey to better health and wish him all the best at the Invictus Games in September."
ENDS
Notes to the Editor:                           
For more information please contact: Brooke Harrison-Davies at brooke.harrison-davies@rafbf.org.uk or 020 7307 3351
RAF Benevolent Fund: The Royal Air Force Benevolent Fund is the RAF's leading welfare charity, providing financial, practical and emotional support to serving and former members of the RAF, as well as their partners and dependants. We help members of the RAF family with everything from disability, injury, financial hardship and youth support to living independently and providing dignity in retirement. For more information visit:  www.rafbf.org Twitter: https://twitter.com/RAFBF