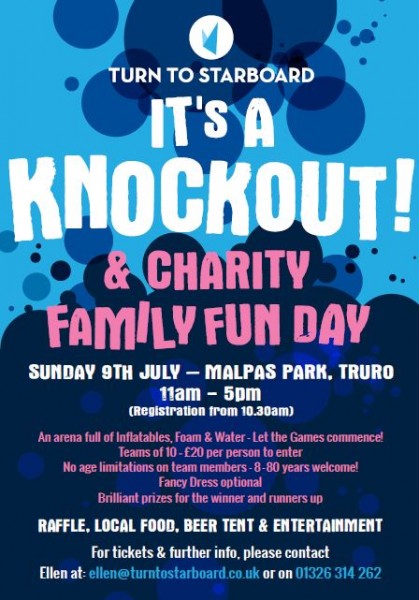 Sailing charity Turn to Starboard will be hosting a family fun day on Sunday, July 9, with a bouncy castle, face painters and an 'It's A Knockout' competition.
Teams can still sign up for the contest which will feature rounds including inflatable jousting and a foam covered assault course.
The event at Malpas Park in Truro, will be held in aid of the charity who help veterans affected by military operations by taking them sailing.
For those not competing, a fun fair, hot food stalls and a beer tent, sponsored by Skinner's Brewery, will also add to the day, which runs from 11am until 5pm.
"We are looking for teams of 10 to enter the contest to get wet, whacked and walloped and take up the challenge of being the Turn to Starboard It's a Knockout Champions of 2017," said organiser Neil Triggs.
"The contest will be an ideal team building and bonding exercise for local businesses, groups or sports teams as well as raising funds for a good cause.
"Many Service personnel who sail with us have experienced hostile conditions on operational tours and often have difficulty readjusting to normal life. Turn to Starboard offers individuals the chance to spend time with like-minded people while learning new skills to help start new careers.
"Team registration is just £20 per person and all money raised will go directly to supporting veterans. Anyone from 8 to 80 years can take part, regardless of age or fitness levels, in a safe, fun and entertaining environment. Join forces with friends, family or colleagues to complete wacky and wonderful challenges with prizes on offer for the winners and runners up. A 'let's go for it' attitude and a sense of humour is all you need, and if that all sounds too much, just bring the family along for a fun afternoon of entertainment with free entry!"
Teams of 10 people can enter by contacting the Turn to Starboard office on 01326 314262 or email ellen@turntostarboard.co.uk.
-End- 
Turn to Starboard Office: 01326 314262
Email us at: info@turntostarboard.co.uk
Website: turntostarboard.co.uk.
Follow Turn to Starboard on Twitter: com/turntostarboard
Find Turn to Starboard on Facebook: com/turntostarboard
Or write to us at: Turn to Starboard, Falmouth Marina, North Parade, Falmouth, Cornwall, TR11 2TD 
Notes to Editors
Turn to Starboard is a Cobseo registered charity using RYA sailing courses to support Armed Forces personnel who have been affected by military operations. We support those who are Serving or Retired and their families.
We help those retired from the forces and those still serving to get perspective on past events and focus on a successful future.
Beneficiaries gain tangible experiences, expert training and career-building opportunities including the chance to gain internationally recognised marine qualifications.
Registered charity number 1148549
For further media information, please contact: Mark Hardaker by calling 01326 314262 or emailing mark@turntostarboard.co.uk.