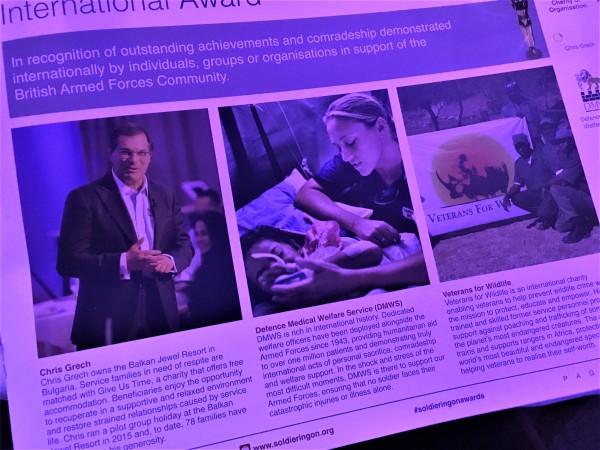 Last week Give Us Time was excited to attend the Soldiering On Awards at the Park Plaza Westminster Bridge Hotel in support of Chris Grech who was nominated for the International Award. Chris is the owner of the gorgeous Balkan Jewel Resort in Bulgaria and long-time donor and supporter of Give Us Time.
Though Chris didn't go home with the award, we were delighted his commitment to the armed forces community was recognised and it was our privilege to spend the evening surrounded by amazing and inspiring individuals.
Chris and the Balkan Jewel have generously donated breaks to over 300 family members since the first respite break to Bulgaria was organised in 2015. Chris is a strong supporter of the armed forces and believes in the importance of giving back to military families who sacrifice so much. Huge thanks go to the staff of the Balkan Jewel who donate their free time to our families, taking care of every aspect of their stay.
We would like to congratulate all of the winners of the night as well as all of the other nominees who have such a positive impact on the military community.