The sun shone and the tins filled up as thousands turned out to donate to the Scottish Poppy Appeal during the inaugural Glasgow Poppy Day. Following on from the success of Poppy Days in other cities throughout the UK, including in Edinburgh, scores of volunteers from across the city gave up their time to hit the streets for a focused day of fundraising.
The day saw staff from some of Glasgow's biggest businesses get involved. The Department of Work and Pensions (DWP) was one of the organisations which allowed staff time away from their day jobs to help raise vital funds to support the Armed Forces community.
Brian Wallace, Area Partnership Manager with DWP Scotland, said: "DWP is signed up to the Armed Forces covenant, but our involvement today is all about volunteering and raising vital funds for the Scottish Poppy Appeal. As part of Poppyscotland's 1918 Poppy Pledge, DWP Scotland staff have committed to volunteering 1,918 hours to go with our pledge to raise £1,918 in the process.
"We've got six Armed Forces champions, 84 offices, five service centres and thousands of staff getting involved, and while we're here today as part of Glasgow Poppy Day, we've also got staff out in support of the Poppy Appeal in Inverness and Edinburgh, and throughout the country as a whole."
Other businesses represented on the day were Barclays, FDM, Golden Charter, Morgan Stanley, Scottish Power Renewables and SSE. Joining the army of corporate collectors were Glasgow North East MP Paul Sweeney and Glasgow region MSP Annie Wells. Mr Sweeney served as a Reservist with the Royal Regiment of Scotland before becoming a politician.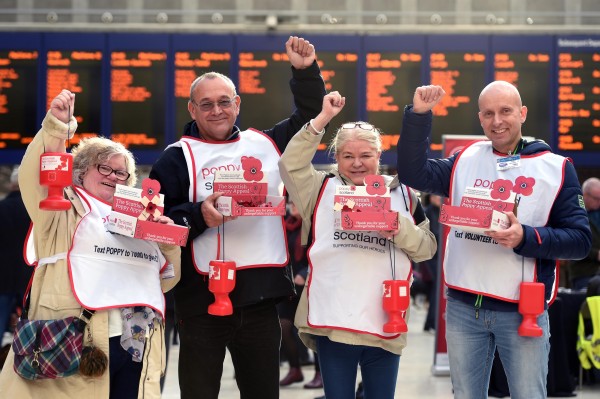 Gordon Michie, the Head of Fundraising at Poppyscotland, said: "It's fantastic that the people of Glasgow – along with hundreds of visitors to the city – dug deep to support this year's Scottish Poppy Appeal. We also cannot thank our teams of corporate collectors and politicians enough for spending the day collecting for us. In this special centenary year, it is wonderful to witness the enthusiasm and support from the Scottish public."
Notes to editors
• For further information and all media enquiries, please contact David A. Findlay, PR Manager at Poppyscotland, on 079797 35611, or email at d.findlay@poppyscotland.org.uk.
• Poppyscotland provides life-changing support to the Armed Forces community. Money raised from the Scottish Poppy Appeal and Poppyscotland's year-round fundraising enables them to deliver support to members of the Armed Forces community in Scotland by providing tailored funding and assistance. The charity also funds services in advice, employment, housing, mental health, mobility and respite.
Please note that we are known as "Poppyscotland", and not "PoppyScotland" or "Poppy Scotland". For more information, please click here.