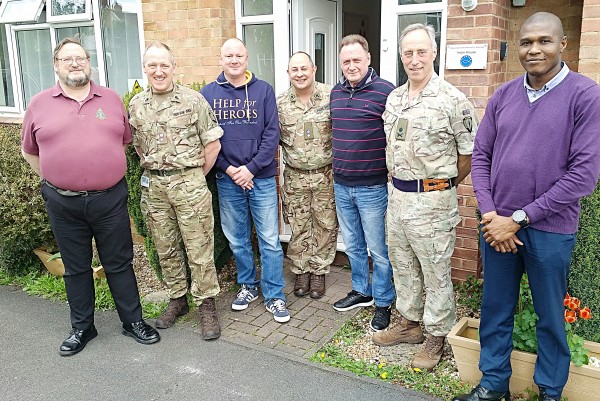 Alabaré's Gloucestershire Home for Veterans were delighted to welcome Commander of the Allied Rapid Reaction Corps, Lieutenant General Timothy Buchan Radford, CB, DSO, OBE to visit the service.
The visit came about after our padre LT-Col Grant-Jones of the Allied Rapid Reaction Corps spoke of his desire to invite the commander to our services to demonstrate the excellent work carried out by our Gloucester team.
Alongside Lieutenant General Timothy Buchan Radford and Lt Col Grant-Jones, was Lt Col Richard Smith who is soon to be Padre to ARRC and Padre for our Gloucestershire Home as of August 2018.
The Commander was then shown around the project by both staff and service users, discussing the services on offer from entry to exit as well as the help available to veterans from our partner organisations.
Kenneth Kwogyenga, team leader at our Gloucestershire Home for Veterans said:
"The whole visit and tour was so fascinating to the Commander who was impressed and extremely grateful to know that such a valuable project exists to support veterans."
Service user at our Gloucester Home for Veterans Tim added;
"I believe this was a very worthwhile visit"
Alabaré's Homes for Veterans programme provides dedicated support to vulnerable veterans across the South of England and Wales, meaning that we are able to keep up over 120 veterans off the street on any given night. Our services in Gloucestershire provides two homes supporting up to 12 Veterans.
-Ends-
For more information or to arrange an interview call Harvey Taylor on 01722 344485.
Notes
At Alabaré we support people to overcome the barriers of homelessness, mental ill-health and learning disabilities in-order to have a home, health, choice and independence.
Alabaré Christian Care and Support provide the highest standards of accommodation and support to disadvantaged and vulnerable people in our communities in order that they can have a home, health, choice and independence. Since 1991, Alabaré have been working with people facing disadvantage through homelessness, mental ill-health, learning disability or a combination of these.  We provide housing and personalised support based on the individual needs and aspirations of each person, tackling underlying causes and giving them the skills and confidence to move forward with their lives. www.alabare.co.uk