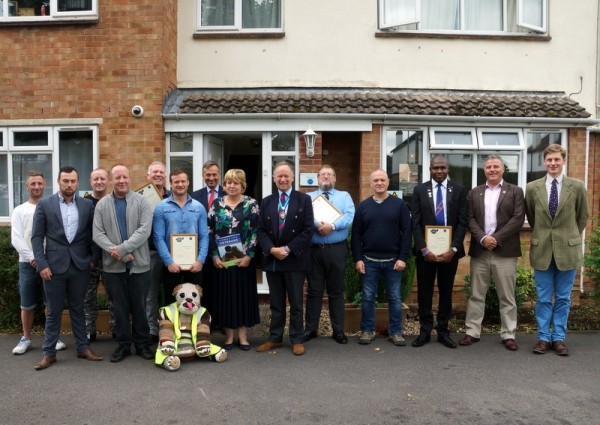 On Monday 24th July Alabaré's Gloucestershire Homes for Veterans welcomed the new High Sheriff of Gloucestershire, Lt Col Andrew Tabor JP, and his wife Lou to the home.
They met with a number of the Veterans, and having served as a Commissioned Officer in the British Army, Lt Col Tabor was able to connect and speak warmly with the residents within the home.  Colonel (Retd) Ian Harris (Chairman of the Gloucestershire Ambassadors – Homes for Veterans, Alabaré) accompanied the visit as well as Major Charles Malet.
During the visit the High Sheriff, presented four Alabaré Inspire Awards, which recognise outstanding performance or contribution to the mission of the charity.  Two were given to residents; Timothy who has assisted the staff team during recent visits from funders and local dignitaries, as well as helping in the local community, volunteering and being upstanding within the home. The second award was given to Tom, who was instrumental in leading the team to victory at the Cumbrian Challenge, showing positive leadership skills and personally developing his own PT business.
Tony Lovegrove received an award for his outstanding support within the home as an Employment Advisor through Walking With The Wounded, encouraging Veterans into training and employment.  The final award was presented to Kenneth Kwogyenga, Support Worker for his outstanding contribution to the home enabling the Veterans transition into independence.
The visit once again showed the great work Gloucestershire Homes for Veterans do, working with ex-Armed Forces Personnel.
Colonel (Retd) Ian Harris, Chairman of Gloucestershire Ambassadors said;
"It was an honour to be able to highlight the ongoing work of the Gloucestershire Homes for Veterans – Alabaré Charity to the High Sheriff and his wife. This visit, to one of the two homes in Gloucester reinforced the incredible progress that has been made since its opening in 2014: its establishment as a home and not a hostel; it's successful integration into the local community; the engagement with a multitude of local and national organisations and agencies to support the work; and most importantly, the direct assistance provided by this one home – Imjin House, to over 50 Service veterans to date. We hope that this visit will enable the continued raising of awareness of the work of this important project."
Neil Hunt, Team Leader of the home said;
"It was a privilege to share the work here at Gloucestershire Homes for Veterans with the High Sheriff and to engage with someone who understands the history and journey of our Veterans.  We continue to show the value of working within the local communities, collaborating with local agencies, organisations and individuals. "
To find out more about Gloucestershire Homes for Veterans visit http://www.alabare.co.uk/home/gloucestershire-home-for-veterans2/veterans
-Ends-
For more information or to arrange an interview call Sarah Booth on 01722 344485.
Notes
At Alabaré we support people to overcome the barriers of homelessness, mental ill-health and learning disabilities in-order to have a home, health, choice and independence.
Alabaré Christian Care and Support provide the highest standards of accommodation and support to disadvantaged and vulnerable people in our communities in order that they can have a home, health, choice and independence. Since 1991, Alabaré have been working with people facing disadvantage through homelessness, mental ill-health, learning disability or a combination of these.  We provide housing and personalised support based on the individual needs and aspirations of each person, tackling underlying causes and giving them the skills and confidence to move forward with their lives. www.alabare.co.uk