HighGround are thrilled to announce that they have just completed their 17th Virtual Rural Week with record attendance.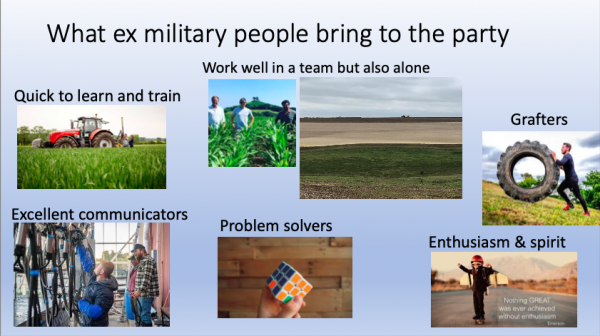 The course, delivered from 22 – 24 May 23, was attended by 23 individuals from across the services (4 RAF, 2 RN, 2 RM and 15 Army – of which 4 were veterans and the remainder serving).  The attendees found HighGround through a variety of pathways, with the majority via CTP (9) and the remainder via LinkedIn, career events or search engines.
The aim of HighGround's Virtual Rural Weeks is to provide service leavers, veterans and reservists with an insight into the career opportunities on offer from the land based sectors and support them in finding employment in these areas. The course is comprised of three days of presentations from subject matter experts.  The online version of the course was introduced as a Covid-19 replacement for the 5 day Residential Rural Weeks, which take place in Bicton College, but despite the ending of restrictions the Virtual Rural Weeks have continued to grow in popularity.
'It has filled me with more excitement about being able to start my new career and has giving me a boost in enthusiasm to step out of my comfort zone and begin networking in my local area.'

Serving RAF AS1
We are very lucky to be supported by a brilliant group of experts and thanks go to Jamie Ranson (Langore Tree Services), Steve Davis (Dorset Wildlife Trust), Phil Tremayne (Horticultural Trades Association), Matt and Kirsty (Hi-Line), Jonny Kerr (Velcourt Farming), Steve Fowkes (Forestry Commission), Richard Hunter (Confor) and Robert Honan (Ascott Estate) who all gave their time to provide knowledge and advice to our attendees. We are grateful to the Forces Trust for their generous support of our Virtual Rural Weeks programme.
The Virtual Rural Weeks are held quarterly, with the next event taking place 18 – 20 September 23. For more information on how to book please see our website: https://highground-uk.org/land-based-employment/rural-weeks/virtual-rural-weeks/