On Tuesday 14 May, a charity "rowathon" was held at Ministry of Defence Abbey Wood, with many MOD contractors, civil servants, and Serving Personnel taking part in the HMS Oardacious one minute challenge to row as far as you can in one minute.
The event took place to mark Mental Health Awareness Week 2019 #mentalhealthawarenessweek2019 with the aim of fundraising as much as possible for the Royal Navy and Royal Marines Charity, and specifically for the HMS Oardacious legacy project – a wellbeing and mental health support project for Royal Navy Submariners. The event was supported by a bake sale with cakes made by a some fantastic volunteers who are supporting the HMS Oardacious campaign, which provided a great opportunity to take time out to talk about mental health in a fun and competitive sporting environment.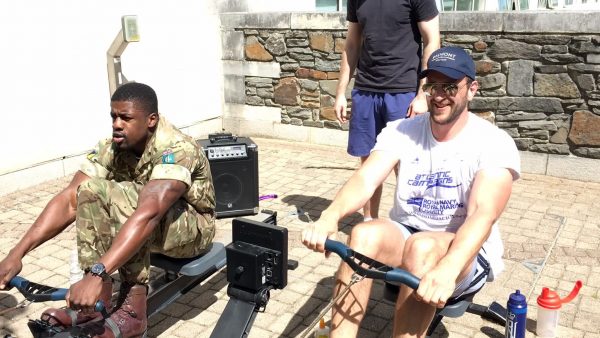 The event was lead by Lt Hugo Mitchell-Heggs, who is leading the HMS Oardacious endeavour. The endeavour will see four serving Royal Navy Submariners row across the Atlantic Ocean in December 2019 to recognise 50 years that the Royal Navy has successfully maintained a Continuous At-Sea Nuclear Deterrent (CASD50), paying tribute to the human endeavour and commitment necessary to achieve this milestone.
As the one minute challenge progressed, Hugo rowed an incredible 50km to pay tribute to CASD50, and to officially launch the "HMS Oardacious 50-Challenge" that will soon go live on the HMS Oardacious website www.hmsoardacious.com. The 50-Challenge will involve either individuals or relay teams of up to ten people rowing 50km on just one rowing machine. There will be prizes available and all are welcome to take part and help promote this fantastic campaign.
To find out more about the challenge or to get involved please get in touch at:
admin@hmsoardacious.com