Poppyscotland's national fundraising campaign to mark the centenary of the end of the First World War has captured the imagination of the nation, and none more so than a Borders cycling sensation who is in the midst of a challenge that is requiring him to cover 1,918 miles on his bike in the fewer than 100 days.
Ian McLeod, 62, who is Chairman for the Hawick Branch of Legion Scotland, heard about The 1918 Poppy Pledge through the branch, and explains why he took up the challenge: "At the Hawick Branch, we are very active in our support of the annual Scottish Poppy Appeal. We feel strongly about providing support to our veterans. What's more, we want to say 'thank you' to all those who paid the ultimate sacrifice, or were injured in conflicts, and especially on this very important anniversary of the end of the First World War.
"I will be cycling 1,918 miles between the 1st of August and 31st October. This is being done locally and the miles will be covered mainly on local rides within Hawick and the Borders, with some taking place in other parts of the country. I will need to cover an average 150 miles per week to achieve this, which I'll fit in along with my full-time job! Yes, it is a tough challenge, but it's one I'm up for."
As part of the challenge, Ian will also being taking part in the annual Poppyscotland Sportive. The Sportive is one of Scotland's top cycling events and will see 1,000 riders taking on one of three distances – 45, 66 or 100 miles – to raise funds for the charity. Ian will be tackling the longest of the routes. All three routes take participants along the beautiful East Lothian coast and then back though its stunning hills and countryside. Thereafter, Ian expects to break the 1,918-mile barrier on October 27th when he will tour a series of war memorials in the Borders while wearing his poppies with pride.
Ian served with The King's Own Scottish Borderers from 1971 to 1977 having joined up at the tender age of just 15 years old and nine months; the last year of so-called "Boy Soldiers". He spent time in Belfast, Berlin and Inverness. Some years later, he joined the Territorial Army after realising there were many things he missed about Army life. He served in the TA for 18 years. Ian adds: "As a veteran myself, I've always felt an affiliation with any charity that supports ex-Service personnel. And if I can do something I enjoy and it benefits someone else then that's fantastic."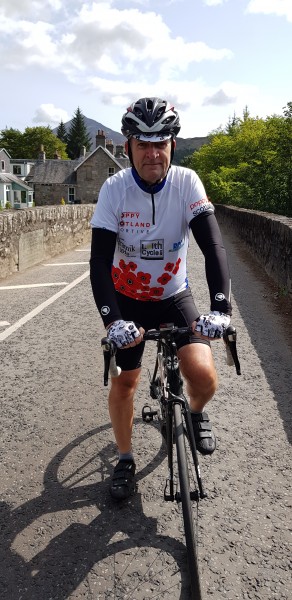 Enjoyment for Ian comes when he is out and about on his bike. He started cycling in his forties and, in his own words, it "opened up my eyes to what is on my own doorstep". He is keen to point out that fundraising for a charity such as Poppyscotland does not necessarily have to be an arduous undertaking. Ian says: "It doesn't have to be a physical challenge if you want to raise funds to make a difference to someone's life. Get out there and do something you enjoy. It is important that veterans know the help is out there, so spread the word when you're doing your bit."
Gordon Michie, Head of Fundraising for Poppyscotland, said: "In this important centenary year, The 1918 Poppy Pledge has inspired groups, schools, businesses, clubs and organisations around the country to take on the challenge of raising £1,918 which will provide a lasting tribute to those who fell in the First World War.
"The fundraising efforts by Ian are nothing short of Herculean, and it is Pledgers such as these that will allow us to make a step change in the scale of support Poppyscotland is able to provide those in the Armed Forces community who rely on our support today."
Poppyscotland provides and funds a variety of services for veterans. They aim to help as many people in the Armed Forces community as possible, and Mr Michie added: "We support people of all ages, whether difficulties have arisen during time in the Armed Forces or many years later. We also help the families of ex-Servicemen and ex-Servicewomen, including partners, widows, widowers and children."
To take part in the Poppyscotland Sportive, or for more information on the event, please contact Katriona Harding, Events Fundraising Manager at Poppyscotland, on 0131 557 2782 or email at k.harding@poppyscotland.org.uk.
Notes to editors:

For further information and media enquiries please contact David A. Findlay, PR Manager at Poppyscotland, on 0131 550 1580 or 079797 35611, or email at d.findlay@poppyscotland.org.uk.
Pictures are free to use and no credit is required.
Poppyscotland provides life-changing support to the Armed Forces community. Money raised from the Scottish Poppy Appeal and Poppyscotland's year-round fundraising enables them to deliver support to members of the Armed Forces community in Scotland by providing tailored funding and assistance. The charity also funds services in advice, employment, housing, mental health, mobility and respite. Please note that we are known as "Poppyscotland", and not "PoppyScotland" or "Poppy Scotland". For more information, please visit us at: www.poppyscotland.org.uk.
A Sportive is an organised bike ride which follows a planned, sign-posted route, with feed-stops as well as mechanical and medical assistance available during the ride. The Poppyscotland Sportive is a charity fundraising event that starts and finishes at the Prestonpans Community Centre. Around 1,000 cyclists will ride their bikes through the stunning countryside of East Lothian and the Borders. The three Sportive routes take in several towns in East Lothian and the surrounding area, including Prestonpans, Tranent, North Berwick, East Linton, Duns, Gifford, Humbie and Cousland.