Three lions that represent a slice of local history are up for grabs in a school charity raffle being held to raise funds for Broughton House Veteran Care Village in Salford.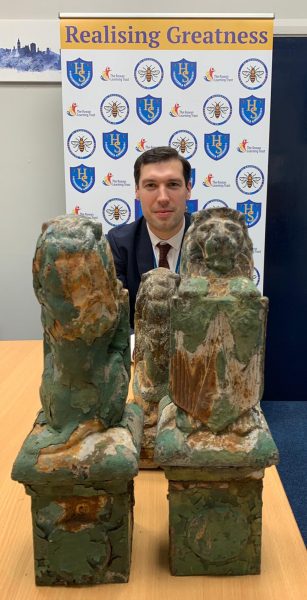 The wrought iron lions are thought to have sat proudly on the gateposts at the entrance to The Heys School in Prestwich, Greater Manchester, since it was built in the 1930s.
Earlier this year, the school began a new era as an academy after becoming part of the Rowan Learning Trust. The switch heralded a change of name from Prestwich Arts College and the adoption of the Manchester Bee as its new symbol.
The trust is investing £1m on a programme of external and internal improvements, including new electronic gates to replace the old ones.
Now the lions are being offered as prizes in a raffle which is being held to raise money for Broughton House Veteran Care Village, the Salford home for ex-servicemen and women which is the school's chosen charity.
The Prestwich Arts College sign is also being offered as a prize in the draw.
Tickets to enter the draw cost £10 and are available to buy until Friday 4 December. The winners will be announced the following week.
The raffle marks the launch of the Heys in the Community initiative, which will see the school support local organisations and good causes through donations and volunteering.
Assistant head teacher Phil Taylor said:
"Having entered the next phase of our journey with our new identity as The Heys School, raffling off the lions and the sign seems a nice way to mark the end of one era and the start of a new one.
"Thousands of people have passed by the school on Heys Road over the years and seen the sign and the lions, and we know there are many former pupils and staff who would love a memento of their time with us.

"The lions have been repainted several times over the years and would look good in someone's garden or on display in their home.

"It's great to be able to use a little bit of our school's history to support such a worthy cause as Broughton House."
Broughton House is currently undergoing a £13m redevelopment which will see the creation of the UK's first Veteran Care Village.
Phil added:
"As Broughton House continues to raise funds for its future, it's nice to use some of our history to help the home achieve its goals."
The school has raised money for Broughton House through a series of activities during 2020, including events held remotely when the school was closed because of the pandemic.
In addition, pupils were assigned pen pals at the home and wrote letters to the veterans to raise their spirits during the first lockdown.
Laura Carr, community and events fundraiser at Broughton House, said:
"We are extremely grateful for the continued support of The Heys School and are proud to be their chosen charity.

"Staff and students have been incredible at raising funds through various events such as the sponsored silence, a steps challenge and now a raffle of their iconic lions.

"We are looking forward to seeing how much this raises and appreciate the ongoing kindness of the school."
To enter the prize draw, visit https://www.justgiving.com/fundraising/the-heys-school2