Independent Facilities Management company, Incentive FM, has gone the extra mile over the last few weeks by taking on a virtual trek of the USA's most famous Highway, Route 66, all to raise money for its chosen charity, Scotty's Little Soldiers.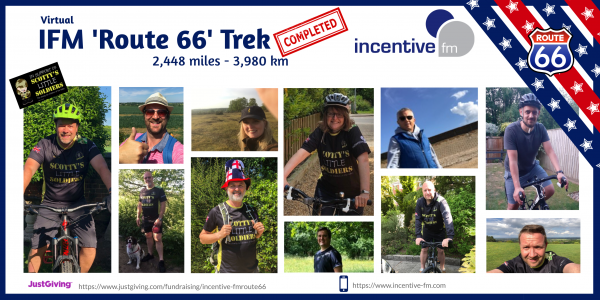 Lead by commercial director, Mark Stevens, the challenge has seen 14 members of the Incentive FM Leadership Team, walk, run and cycle the 2,448 miles from Chicago to Los Angeles, while raising vital funds to ensure integral support for bereaved Armed Forces children can continue to function at this difficult time.
Taking a total of 43 days to complete, the team, who are based all over the country, have kept each other going. Mark, who is based in Worcester, stressed the importance of the challenge in helping the team with their wellbeing.
He said:
"The goal of setting this challenge, as well as raising money, was to help keep the team mentally occupied during lockdown and help them focus on their wellbeing, and it has been great to see how everyone has embraced it. With us all being spread across the country and unable to see one another, this challenge has given us a common goal and encouraged us all to get outside and enjoy our local surroundings."
Incentive FM, have, over the last three years, raised a staggering £90,000 for Scotty's Little Soldiers. The business selected Scotty's as its chosen charity in 2016 and has continued to support them ever since. To date, the company has organised a variety of fundraising activities from the UK three peaks challenge to charity clay pigeon shoots.
Incentive FM Managing Director, Bruce McDonnell added:
"Everyone in the business has taken Scotty's to heart and understands and appreciates the difference they make to hundreds of bereaved Forces children across the country. Over the years, I have had the opportunity to meet the charity founder, Nikki and the Scotty's team which further builds that connection and relationship. As a business, we're always coming up with new ways to raise money and we know that the charity needs those funds now more than ever and will continue to do what we can to help."
Scotty's Little Soldiers was founded by war widow Nikki Scott in 2010 after her husband, Corporal Lee Scott was killed in Afghanistan the previous year, leaving behind two young children. The charity does lots of things to support its members, including providing access to the very best health and wellbeing care, offering outstanding development opportunities through a range of activity and educational grants, and Scotty's helps put smiles back on those brave faces by organising events, providing respite breaks, posting them birthday and Christmas presents and remembering the anniversary of their parent's death.
Usually, at this time of year, Scotty's would be arranging for the families, all grieving for a loved one, to go on respite breaks and attend special events, but sadly these things aren't possible at present. In recent weeks, the charity has had to adapt to the current climate and has been using modern technology to arrange exciting virtual events and activities to engage with its members, ensuring them that in uncertain times such as these, they are not alone. They've also been providing a high volume of wellbeing support to families who are suffering from enhanced anxiety and other problems due to the current health crisis.
Nikki said:
"Incentive FM has been an incredible support to Scotty's over the years, and I can't thank Bruce and the Leadership Team enough for their efforts over the last few weeks. Their support means the world to us particularly at this difficult time, and every penny they raise allows us to continue to deliver the high level of support our members need now more than ever."
To donate to Incentive FM's fundraiser visit https://www.justgiving.com/fundraising/incentive-fmroute66
Or to sign up for your own virtual fundraising event or challenge, go to: vf.scottyslittlesoldiers.co.uk
And to find out more about Scotty's Little Soldiers visit: http://scottyslittlesoldiers.co.uk/