An independent Service Evaluation Study by the University of Sheffield Medical School has recorded a significant improvement in the general wellbeing and mental health of military veterans who have completed the PADI Deptherapy programme.
Fifteen ex-Service personnel took part in the ground-breaking study by medical students from November to December 2016. Each of the 15 participants had experienced a variety of physical injuries as a result of combat and some had recorded an additional diagnosis of Post-traumatic Stress Disorder (PTSD).
The study was originally conceived by Hannah Higgins, a fourth-year Sheffield medical student, who is also Miss Scuba UK 2017.
Participants were surveyed for the study using the established General Health Questionnaire (GHQ-28) and semi-structured personal interviews. Family members and health professionals who had observed the diving programme were also interviewed.
90% of those surveyed reported improvements in their general wellbeing and mental health, which were attributed, at least in part, to their participation in the Deptherapy programme. 60% of those surveyed reported an overall improvement in psychosocial wellbeing, most notably relating to anxiety levels, insomnia and depression. The study generated an 87% response rate.
The study concluded that the Deptherapy Scuba Diving programme can offer significant therapeutic benefits for ex-Service personnel experiencing anxiety and PTSD, notably in terms of alleviating social dysfunction and symptoms of depression. The study additionally found that scuba diving enables those with severe physical impairment to perform alongside, and in the same manner as, an able-bodied person thus bolstering self-confidence and self-esteem.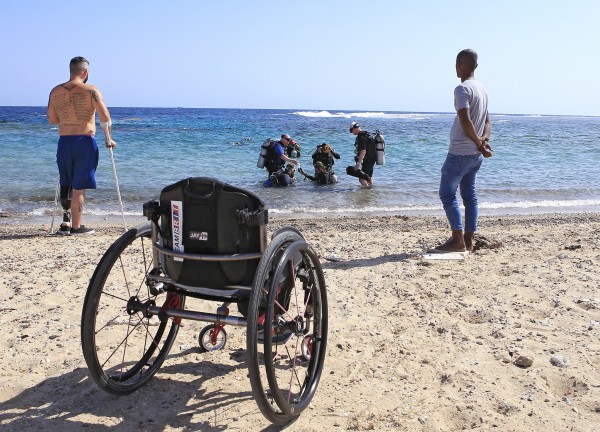 Until now, medical research into scuba diving as a prospective therapy for injury and disability has been very limited. This study, therefore, offers both considerable insight into the potential of scuba diving as a therapeutic aid, as well as independent validation of the actual benefits of the Deptherapy Scuba Diving programme for its members.
Dr Richard Castle, Vice President of Deptherapy and Deptherapy Education commented on the study:
"This has been an important and innovative piece of research which has demonstrated that the Deptherapy programme offers significant therapeutic benefits for ex-Service personnel, particularly for those experiencing anxiety, depression and PTSD."
As well as documenting the therapeutic benefits of the Deptherapy programme, the study also highlighted areas of potential enhancement, for instance in evolving a peer support scheme. The Deptherapy Buddy Peer Support Scheme, trialled last summer, has now been launched this January with the aim of providing an additional support mechanism for programme members.
PADI Ambassadiver, Deptherapy Board Member and Trustee Gary Green knows first hand the very real benefits of the Deptherapy programme. The former Rifleman was injured by two exploding IEDs whilst on tour in Afghanistan in 2009, resulting in him losing the sight in one eye and a lengthy battle with acute PTSD.
Gary joined Deptherapy in 2015 and is now training to become a PADI DiveMaster. He explained the positive effect the programme has had on his life:
"Deptherapy has been a support for my growth. When I first got in contact with the charity I believed I would be labelled as PTSD for the rest of my life. Underwater I found a peace of mind and a realisation that PTSD does not have to define me. Underwater I did not have PTSD and this feeling has stayed with me from the point my head went under the blue until this very day. Diving has healed me."
For more information about the University of Sheffield study and the work of Deptherapy and Deptherapy Education visit www.deptherapy.co.uk.
Ends
Notes for Editors
About Deptherapy: Deptherapy and Deptherapy Education is an English charity since 2014 that aims to rehabilitate seriously injured UK Armed Services Personnel who have suffered life changing mental or physical injuries, through the medium of scuba diving. The charity also provides education in adaptive scuba diving techniques to dive professionals.
Images: The attached images may be used to illustrate this story and show (1) Deptherapy programme members undertaking open water training at Roots Red Sea in Autumn 2016 and (2) Deptherapy programme member and former Rifleman Gary Green. For both images, please credit the photographer: Dmitry Knyazev.
For more information and further images, please contact:
Richard Cullen – ops@deptherapy.co.uk
Jane Herbert – jane@aquamedia-online.com