On Thursday 4 July, military veteran Michael Swain MBE, who lost both his legs while serving in Afghanistan, will begin his bid to break the world record for travelling from John O'Groats to Land's End using a handcycle.
Michael, 29, from Bedfordshire is planning to cycle the 850-mile journey in under four days – hoping to shave at least two days off the current record. Michael will need to cover an astonishing 212 miles a day whilst climbing more than 32,000 feet over the duration of the route if he is to meet his target.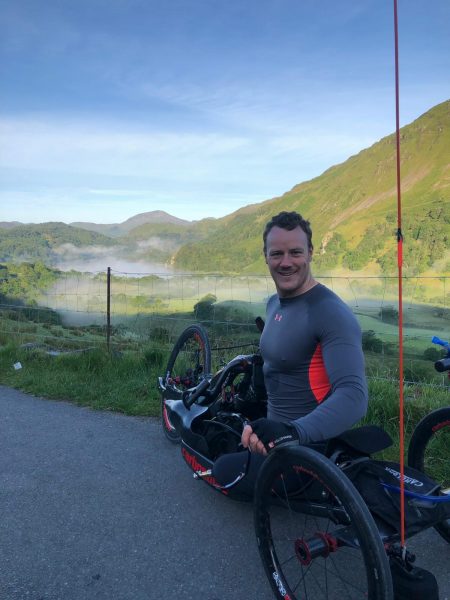 "We've put a lot of hard work into this challenge so I'm feeling good. This will be more of a mental challenge for me than physical challenge, but I think I am quite mentally strong already as I was injured in Afghanistan and been through rehab." said Michael, who has been made a custom socket by Limb Solutions for the challenge.
Michael was injured on 8th November 2009 by an improvised explosive device while on a foot patrol in Helmand Province, Afghanistan. As a result, he lost both his legs above the knee and suffered shrapnel wounds to both arms. Having struggled to use socket fit prosthetics, Michael became the first British Military amputee to be fitted with Osseointegration.
Michael took to handcycling in 2017, taking part in the Race Across America in an eight-man team of injured veterans who completed 3081 miles in just over six days. Later taking part at the British Championships, he won two silver medals despite having been cycling for just six months. In 2018 Michael was competing at a high level in both the European and World Circuit, and ended the year by taking home two gold medals at the Sydney Invictus Games in the time trial and road race.
Michael will be raising money for military charities Blesma, The Limbless Veterans and 65 Degrees North during the challenge.
"Blesma has always been close and personal to me. They help injured serving personnel and veterans like me, and all my men are pretty much limbless now too. They do some great rehabilitation activities like skiing which help with the adaption to becoming an amputee."
If you wish to donate and help Michael meet his £10,000 goal then please visit: https://www.justgiving.com/fundraising/michael-swain4 
About Blesma, The Limbless Veterans
Blesma, The Limbless Veterans was formed in the years following the First World War and became a national charity in 1932.  Blesma is dedicated to assisting serving and ex-Service men and women who have suffered limb loss or the loss of use of a limb, an eye or loss of sight. We support these men and women and their families in their communities throughout the UK and overseas.
Since 1932, we have been the only national Service charity that supports limbless veterans for the duration of their lives; just as we are still caring for our surviving World War II veterans, we also look after those who have survived complex trauma injuries through recent conflicts, accidents or illness, and will need our specialised support as they face the long journey ahead. Blesma aims to ensure that all serving or ex-service men and women who have lost sight, limbs or the use of limbs can lead independent and fulfilling lives and will not be failed, forgotten or left behind.
Follow us on Twitter & Instagram @Blesma and Facebook /blesma
For further information on Blesma, The Limbless Veterans, contact
Jessica Mackinnon, In-house journalist
T: 020 8590 1124