The founder of a sailing charity in Falmouth has received an award from Prince Harry for his work with injured Armed Forces personnel.
Turn to Starboard Chief Executive, Shaun Pascoe, was presented with The Henry Worsley Award by Prince Harry and Meghan Markle at the Endeavour Fund Awards in London last week.
The Endeavour Fund Awards are held annually to celebrate the achievements of wounded, injured and sick servicemen and women who have taken part in remarkable sporting and adventure challenges to help with their recovery and rehabilitation.
The former RAF Squadron Leader was nominated for the Henry Worsley Award in recognition of how he has inspired others with their recovery through sailing, following his own diagnosis of Post-Traumatic Stress Disorder (PTSD).
He said:
"I am both honoured and humbled to receive this magnificent award, yet fully aware the support I received from so many other people during my own recovery has played a significant part in this recognition.

"By helping me set up the charity just five years ago, we have been able to ensure more than 2,500 injured veterans have been able to benefit from the same therapeutic effects of sailing and the sea, with many learning new skills to become sailing instructors, sail their own families, or find new careers in the marine industry.

"It's thanks to the support of amazing organisations such as The Endeavour Fund, along the incredibly selfless team at Turn to Starboard, that we can continue to provide our service to those who need us most and continue to change lives for the better."
The glittering awards ceremony recognised the significant achievement of nine nominees chosen from a long list of applicants. The Duke and Duchess of Sussex chaired a judging panel to decide which three of the nominees for each category would be announced as the winners.
Launched in 2014, Turn to Starboard believes sailing has a therapeutic effect on those affected by military operations. The Falmouth-based charity provide Royal Yachting Association (RYA) sailing courses to Armed Forces personnel affected by military operations along with family sailing trips, Tall Ship sailing, competitive racing and boat restoration.
To find out more, visit turntostarboard.co.uk.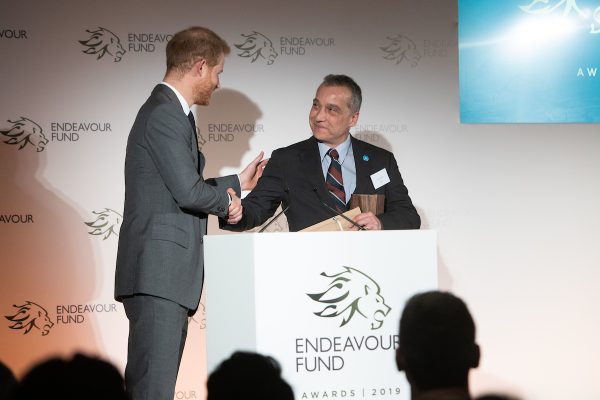 Turn to Starboard CEO and founder Shaun Pascoe receiving the Henry Worsley Award at the Endeavour Awards 2019.
Notes to Editors
• Turn to Starboard is a Cobseo registered charity using RYA sailing courses to support Armed Forces personnel who have been affected by military operations. We support those who are Serving or Retired and their families.
• We help those retired from the forces and those still serving to get perspective on past events and focus on a successful future.
• Beneficiaries gain tangible experiences, expert training and career-building opportunities including the chance to gain internationally recognised marine qualifications.
• Registered Charity number 1148549
For further media information, please contact: Mark Hardaker by calling 01326 314262 or emailing mark@turntostarboard.co.uk.