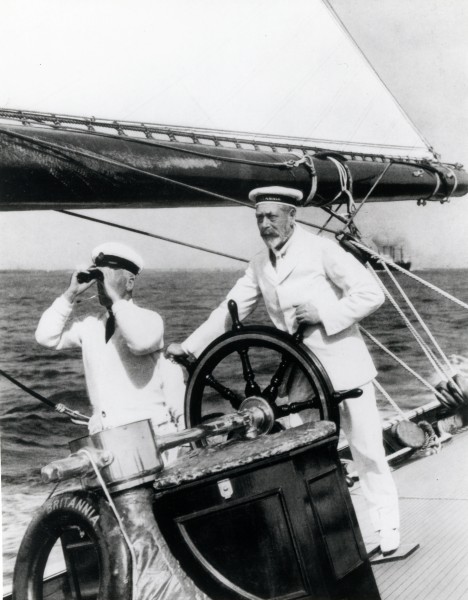 A charity set up in the midst of World War One to assist families of seafarers lost or injured at sea will be one hundred years old on 5 July.
Charting the charity's history, a 'Centenary Timeline' – www.seafarers.uk/timeline – identifies milestone activities and the role of key individuals, including King George V who gave his name to what was originally known simply as the Sailors' Fund.
Over the past century a huge range of welfare services has been provided for seafarers in, or retired from, the Merchant Navy, Fishing Fleets, Royal Navy and Royal Marines. Most beneficiaries are still from the UK and Commonwealth countries, although some grants go towards facilities – such as port-based centres – used by other international seafarers.
Rebranded Seafarers UK in 2005 the charity gives grants to help people in the maritime community by providing vital support to seafarers in need and their families, and to those in education or training who are preparing to work or serve at sea.
Former Head of the Royal Navy Admiral Lord West of Spithead said: 'Congratulations to Seafarers UK on reaching its Centenary. The make-up and capability of the UK's maritime sector has changed dramatically since 1917, and whilst we are still very much an island nation with serving seafarers in the Royal Navy, Merchant Navy and Fishing Fleets, the numbers of those actively involved is reducing every year.'
'Within this context, there is a very important and continued role for Seafarers UK to play, both in helping to raise awareness of the need for, and existence of, training and job opportunities in the maritime sector, and in helping those still serving, but increasingly veterans and ex-seafarers, who have fallen on hard times, and their families.'
Seafarers UK receives no Government funding and is heavily dependent on donations, legacies and corporate support to continue giving grants of £2.5 million every year.
Website: http://www.seafarers.uk/our-centenary/
ends
Media enquiries: Nick Harvey, Campaigns Manager, Seafarers UK, phone 020 7932 5969, mobile 07910 593588, email nick.harvey@seafarers.uk
Photo caption: King George V at the helm of HMY Britannia
Seafarers UK (King George's Fund for Sailors) is a Registered Charity in England and Wales, No. 226446, incorporated under Royal Charter. Registered in Scotland SC038191. Registered Office: 8 Hatherley Street, LONDON, SW1P 2QT.