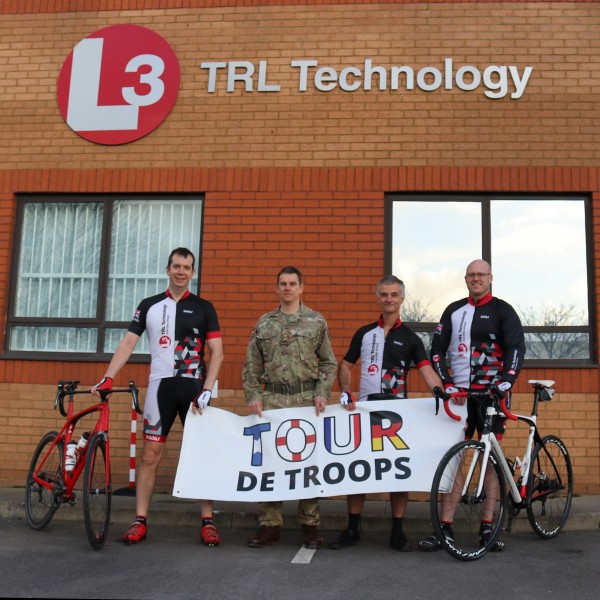 Defence and cyber security company, L3 TRL Technology is proud to be the official sponsor of Tour de Troops, the endurance cycling challenge that's part of The Captain James Wadsworth Challenge, in aid of military charity the Felix Fund. The Tour de Troops is a five-day Land's End to John O'Groats cycle commencing Thursday 7th June to Monday 11th June.
Founded by Captain James Wadsworth CGC, The Captain James Wadsworth Challenge combines the Tour de Troops, which ran previously in 2017, with the newly launched Soldier's Pass Run. These challenges will test fitness and endurance to the limit. All events are in aid of the Felix Fund, which raises money and awareness to support the Explosive Ordnance Disposal community.
Captain James Wadsworth CGC, said: "It's fantastic to have the backing of a global brand when you're raising money for a cause as worthy as the Felix Fund.
"A huge amount of work goes into organising an event on this scale, work that most people don't see, and none of that would be possible without organisations like L3 TRL lending their support."
Carly Hill, L3 TRL's, Vice President Marketing and Communications, said: "We are delighted to be sponsoring this year's Tour de Troops challenge as well as supporting members of our own team who will be joining Captain James Wadsworth on the route. The TRL Cycling Team will be riding alongside the Tour de Troops team from Land's End to John O'Groats and are training hard for this extreme challenge. L3 TRL has a proud history in supporting our defence and security services with force protection systems and we feel our sponsorship of Tour de Troops is a way we can recognise the sacrifice and risks that bomb disposal and search personnel contend with to help keep our nation safe."
If you'd like to get involved, it is £150.00 to enter. Accommodation, meals and nutrition are included. Whether you'd like to cycle in the Tour de Troops, or become a sponsor, this a great opportunity to show your support and take part in something truly amazing. You can register here: https://origintickets.co.uk/store/?event=1066
For sponsorship enquiries, contact pr@redheadpr.co.uk or call 0131 357 8977.
L3 TRL is a UK-based company which designs, develops and delivers advanced electronic systems for the protection of people, infrastructure and assets. L3 TRL operates primarily in the fields of electronic warfare and cyber security, creating scalable solutions by investing in innovation and delivering excellence. Working in partnership with civil and defence organisations around the globe, L3 TRL helps make the world safer through defending against evolving and emerging threats.
Make a donation to the Felix Fund: https://www.justgiving.com/fundraising/tourdetroops
For editorial enquiries, contact 0131 357 8977 or email pr@redheadpr.co.uk
Ends