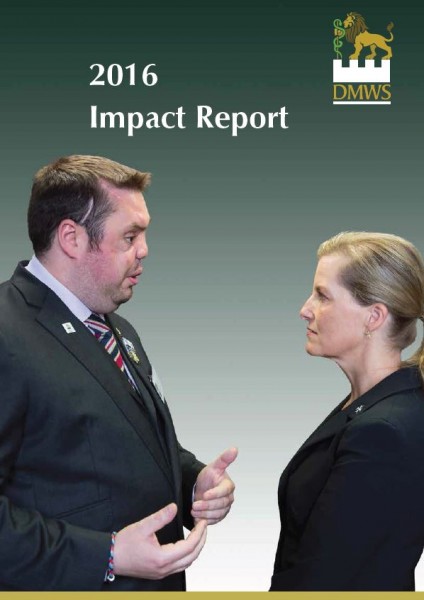 Our 2016 Impact Report showcases the work, commitment and outstanding results of DMWS.
DMWS has been providing an independent and impartial medical welfare service for "Those who Serve" for more than 70 years. Our Welfare Officers offer practical and emotional support to ensure that no family goes through the worry of injury or illness alone.
We work with patients when they are receiving treatment on a clinical care pathway – when their medical needs are being met but when other issues, problems or social influences, may be distracting them from their recovery. To that end we act as care navigators, identifying need and finding voluntary and statutory organisations to link with the individual to reduce pressure on NHS staff and to enable the patient to return to health, work and home at the earliest opportunity.
In 2016 we continued to focus on our core business of bringing the Covenant between the Armed Forces and the Nation to life through the provision of our unique, highly responsive and professional medical welfare service to those who serve.
Throughout the report our case studies demonstrate how our service makes a real difference to individuals and family members. We have gathered evidence that demonstrate the cost benefit and value of our professional welfare service to linked organisations and health care providers.
Moreover, we share with you our 2016 highlights which included:
The acceptance, by HRH, The Countess of Wessex, of the role as our Royal Patron
The presentation of the Sovereign's Medal of Merit by the Order of St John
The commission to deliver multiple new welfare projects across the UK, our reach now extends to new beneficiaries in the Veteran's community, the Police, the Probation Service and the NHS
The development of our training provision to continue our work in "professionalising welfare"
We are proud of our partnerships with Help for Heroes, The Royal British Legion, The Police Mutual, ABF – The Soldier's Charity and many others who support our service which contributes to improving the experience for all our service users.
Please feel free to share our Impact Report:
https://www.yumpu.com/en/document/view/58187379/dmws-impact-report-2016-highres
For more information about DMWS please visit www.dmws.org.uk
ENDS
Christine Pilbeam, 26 April 2017
Notes to editors
For further information on DMWS please contact Christine Pilbeam, Marketing and PR Manager on 01264 774009 or email mfo@dmws.org.uk
Registered Charity in England and Wales (1087210) and in Scotland (SC045460) 
About St John and Red Cross Defence Medical Welfare Service (DMWS)
DMWS has been providing a person-centred medical welfare service to the Armed Forces Community since 1943. In that time we have supported over 1,000 000 patients and their families, ensuring that no one goes through the worry of injury and illness alone.
Five reasons why our service makes such a difference:
We are the only charitable organisation providing a medical welfare service throughout the health care pathway
Our service saves money by accelerating recovery and contributing to earlier return to work
We assist organisation by unblocking hospital beds and generating capacity, releasing clinicians to do clinical work
For best solutions we work closely together with our partners, charities, the NHS and Social Care
DMWS provides thought leadership that sets the standard for professional welfare
Mission: To provide a high-quality medical welfare service to those who serve the nation and the community when they are in the patient care pathway, in order to deliver capability and productivity.