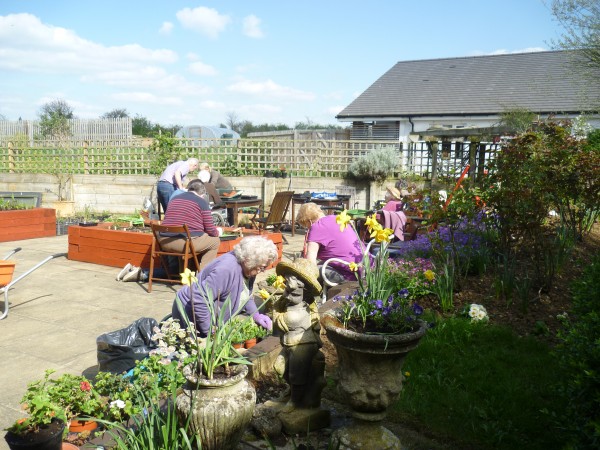 Apta and Jersey Plants Direct donate plants and pots to The Royal British Legion's six care homes for residents to enjoy this summer
Residents of The Royal British Legion's six award-winning care homes, four of which include specialist dementia care wings, have taken delivery of new plants and pots donated by Apta and Jersey Plants Direct, for their enjoyment this summer.
Dunkirk Memorial House in Taunton, Galanos House in Warwickshire, Halsey House in Norfolk, Lister House in Ripon, Mais House in East Sussex, and Maurice House in Kent have all gratefully welcomed the horticultural gifts, which include glazed poppy pots, geraniums, begonias, petunias, and impatiens.
The residents have already begun planting and watering the flowers themselves, which will be displayed around the homes and their grounds.
Jo-Anne Wilson, Home Manager of The Royal British Legion's Galanos House, comments: "Galanos House residents gardening group were thrilled to take delivery of the beautiful planters, pots and plants from Jersey Plants Direct and Apta. Our residents were soon out in the sunshine rearranging the gardens and planting up."
Graeme Kidson, Product Developer at Apta, said: "I have always been aware of The Royal British Legion and the fantastic work it does around Remembrance. However, it was not until Apta became a corporate partner of the Legion that I truly understood the full extent of the fantastic work the charity does all year round. I look forward to seeing the residents enjoy them."
Tim Dunningham, Chief Executive Officer of Jersey Plants Direct, adds: "We are delighted to have supplied each of The Royal British Legion's award-winning care homes with a whole range of plants for their gardens. We know from speaking with our customers how beneficial to people's health gardening can be for both their physical and mental wellbeing. We hope the residents in each of the homes enjoy the plants we've donated and benefit from gardening."
Apta is a supplier of innovative garden pottery and associated products to independent garden centres throughout the UK and Ireland. 10% of the sales of its poppy range are donated to the Legion.
Jersey Plants Direct is an online plant mail-order company offering a range of bedding plants, shrubs, seeds, bulbs and gardening accessories. 10% of the sale of a selected range of its products are donated to the Legion.
– Ends –
Notes to Editors:
The Royal British Legion's work is encapsulated in its motto: Live On – to the memory of the fallen and the future of the living. The Legion is the nation's biggest Armed Forces charity providing care and support to all members of the British Armed Forces past and present and their families. The Legion champions Remembrance and safeguards the Military Covenant between the nation and its Armed Forces. It is well known for the annual Poppy Appeal, and its emblem the red poppy. britishlegion.org.uk
For further information please contact: Alex Kent, Public Relations Officer, The Royal British Legion on akent@britishlegion.org.uk / 0203 053 7316 / 07789 618 053