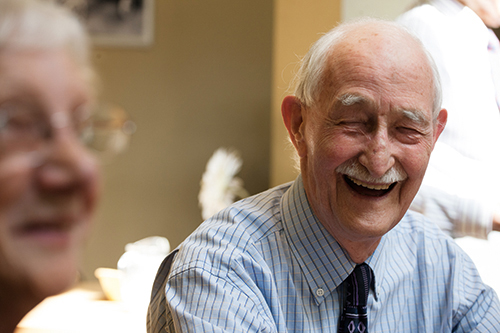 Four new Camaraderie Clubs, run by the Royal Voluntary Service Lincolnshire, are set to open this year as a result of funding from The Royal British Legion.
The four new social clubs, known as Camaraderie Clubs, will see around 140 older veterans being offered the opportunity to attend a weekly club in a safe, friendly and open environment. Run by ex-service volunteers, with approximately 40 volunteers set to be in place, three clubs have already opened in Sleaford, Grantham and Coningsby, while one more is set to be established by the end of the year in Spalding.
As part of The Royal British Legion's External Grants programme, the Royal Voluntary Service received a grant of £31,010 which has funded a new Veterans Project Coordinator – Nikki Sharpe. This new role will directly support the set up of the new clubs, with volunteer recruitment, training, agency liaison and promotion all part of the project coordination.
Nikki started with the Camaraderie Club as a volunteer and is herself a veteran having served in the RAF for over 22 years. After service Nikki was diagnosed with PTSD and was out of work for two years before becoming a volunteer at the RVS. She found out about the volunteer opportunities via social media and became an established part of the original club in Lincoln since the very beginning.
She said: "From day one, being a volunteer at the Camaraderie Club has been an enjoyable experience and it has met and exceeded my expectations. The club was so relaxed for all involved and it was great to finally feel I had found something I was really passionate about. After struggling for work and living with PTSD, this felt like a real step forward for me personally and I'm so happy to now be involved in an evolving project within the role of Veterans Project Coordinator.
"We've already had a lot of interest in the four clubs and we can't wait to provide an expanded service to veterans across the region."
The Camaraderie Clubs will be a weekly club for older veterans offering comradeship, banter and various information and presentations of interest. Older veterans will be supported by volunteers who will be younger veterans and current serving personnel. Various military charities and other appropriate organisations will visit the clubs on a regular basis to provide advice and information as required and as dictated by the needs and want of the members.
Cheryl St Hilaire, Operations Manager for Lincolnshire and Nottinghamshire RVS, said: "The establishment of the Camaraderie Club has given veterans, young and old, a place to meet, share memories and relax for a couple of hours amongst friends. There are no 'official' presentations or sell in of other services, we simply provide a welcoming environment and provide information and advice if and when needed. It's that simple and we hope the new clubs will create a long-lasting impact within the Lincolnshire community."
Head of Social Policy & Grant Giving at the Legion, Steven Baynes, said: "We're pleased to have awarded over £31,000 to the Royal Voluntary Service. The grant demonstrates the Legion's continued commitment to working with other organisations to provide the best support possible to our beneficiaries and within local communities. The new clubs will make a real difference to those veterans seeking a place to meet other ex-service personnel whether they are a member of that club or a volunteer."
For more information about the Camaraderie Clubs in Lincolnshire visit the Facebook page https://www.facebook.com/Camaraderieclub1/ or contact 01522 305313