A group of Veterans have been learning essential new cooking skills such as preparation and food hygiene thanks to the support from local organisations.
Up to ten residents living at Launchpad's Speke House in Liverpool were invited to participate in a three-day course, which helped them to gain essential cooking skills but also a qualification at the end of it.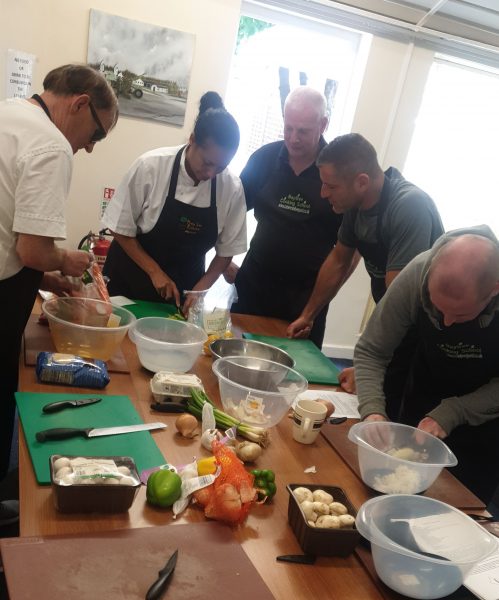 The Level 2 Food Safety & Hygiene course was funded by the Speke Training & Education Centre (STEC) and delivered by the charity, Bay Tree Cooking Academy CIC. On their first day, residents were treated to some Italian al fresco cooking. They visited the Molyneux Kale farm in Scarisbrick where they picked kale and vegetables and cooked outdoors. On their second day, they were back at Speke House where they learnt how to prepare homemade Asian and Indian food and then on their final day, they searched the internet for recipes and advice on nutrition.
Sam Jackson, Manager at Launchpad's Speke House, said:
"This has been a fantastic project for our residents to engage with. The feedback I have received is very positive and it's great to see so many of them participating and learning new skills. We take little things like cooking for granted but when you live on your own and need to prepare meals, it can sometimes be daunting so this course has been brilliant. We really appreciate the support of local organisations supporting our veterans."
Michelle O'Dwyer, Director of Bay Tree Cooking Academy, said:
"Our aim is to put funding back into education using food. These courses are designed to teach adults essential new skills such as teamwork, social interaction, budgeting, planning and the importance of nutrition and a good health diet.

"This is the third time I've worked with Launchpad and the veterans really enjoy the sessions. We try to make it fun and interactive so getting them outside and into the community helps them with their confidence and being engaged in something productive. They even learnt how to bake a cake and although this was challenging for them, they loved it. Hopefully, a few of them will eat less takeaways and apply the skills they have learnt to cook homemade Indian and Chinese food but much healthier."
Mark Ord, Chief Executive of STEC, said:
"Our aim is to advance adult learning and relieve poverty in the Garston (Speke) area and we were more than happy to support our local veterans' charity. We granted the funding to enable their residents to study their Level 2 Royal Society for Health Food Hygiene qualification, which I hope will serve them well in future."
Speke House consists of 48 bedsits including communal space and a garden for residents to socialise. In addition to safe, secure accommodation, staff also provide support with the assistance of specialist providers, to help Veterans stabilise their lives and make a successful transition from military to civilian life. Last year, Launchpad supported 152 homeless and unemployed Veterans at Speke House and at Avondale House in Newcastle.
For more information on this press release, please contact Craig Downs from Up North Communications on 0191 300 0810, 07811 287 922 or email craig@upnorthcommunications.co.uk
Notes to Editors:
AF&V Launchpad is a registered Charity Number 1153185 and Company Number 8633047.
• For more information about Launchpad, please visit www.veteranslaunchpad.org.uk
• Launchpad welcomes donations to support its veterans, through its website
• Key partners that Launchpad work with are: Liverpool City Council, Newcastle City Council, Big Lottery, ABF The Soldiers' Charity, Royal British Legion, Veterans' Foundation, Forces Employment Charity, Addaction, Crisis Skylight, the NHS, SSAFA, Speke Training and Education Centre and Combat Stress, among many others.
• Achievements in the last year have been as follows:
– 48% of residents settle into independent living with jobs
– 60% of residents settle into independent living, on benefits and may be looking for a job
– 25% of residents move on without significant change to their wellbeing, but all will have benefited from Launchpad's support
– Over 400 residents have benefited from Launchpad's services
– Launchpad won the 'Working Together' award in the national 'Soldiering On Awards' and two founders were awarded the Prime Minister's 'Point of Light".
– Shortlisted for this year's Heropreneurs Awards, award announced Autumn 2019.