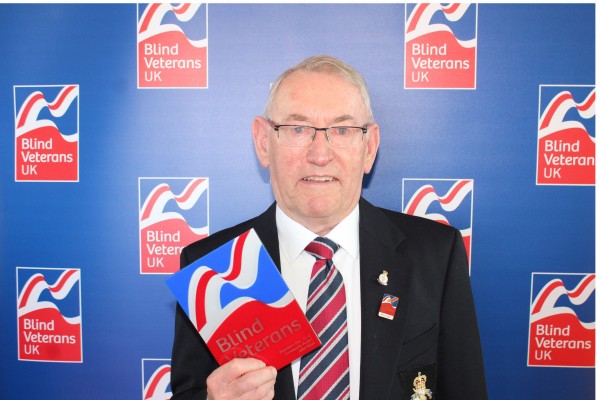 A blind veteran from Llandudno has received a special award from military charity Blind Veterans UK for his outstanding work as a volunteer for the charity over the past year.
John Nicol, 79, received the award at the Blind Veterans UK Founder's Day Awards, held at the charity's training and rehabilitation centre in Brighton last Monday (26/03).
John says: "I was overwhelmed when my name was called at the ceremony. I could never give back even half of what I've got out of the Blind Veterans UK, so to be recognised for my volunteering is very humbling indeed."
John was nominated for the award by Mark Hollis, Rehabilitation Support Team Leader at Blind Veterans UK's Llandudno Centre, for his "infectious enthusiasm and tireless efforts to ensure other blind veterans are enjoying themselves during trips and activities."
John joined the Royal Electrical and Mechanical Engineers (REME) in 1955 and served until 1958, before joining the Reserves for another five years.
He began to lose his sight around 20 years ago due to glaucoma and optic neuropathy and now has no vision in one eye and around 30 per cent vision in his other eye.
John found out about Blind Veterans UK by chance, when he attended a sailing regatta and one of the prizes was presented by the charity. He began receiving training, equipment and support from Blind Veterans UK in 2015 and joined the charity's sailing club, through which he has made many friends.
Two years ago John made the decision to start volunteering for Blind Veterans UK at its Llandudno centre. A local to the town, John guides fellow blind veterans around Llandudno on day trips out and has recently qualified as an archery instructor for the charity. He now helps run a weekly archery club for vision-impaired ex-Service men and women like himself.
John says: "The archery club is great fun. I never thought I could be an instructor because I have a vision impairment, but I've been given a special monocular which helps me see the target so I can let the archers know how they're doing. Blind Veterans UK has taught me that sight loss shouldn't hold you back from doing the things you enjoy."
Chief Executive of Blind Veterans UK, Major General (Rtd) Nick Caplin CB says: "Our Founder's Day Awards are the highest honour Blind Veterans UK gives to the veterans we support.
"Every year we recognise the achievements of veterans like John who have really demonstrated the values we hold as a charity. John, along with the other nominees and winners are the shining examples of all that can be done to achieve victory over blindness."
Blind Veterans UK was founded in 1915 and the charity's initial purpose was to help and support soldiers blinded in WWI. But the organisation has gone on to support more than 35,000 blind veterans and their families, spanning WWII to recent conflicts including Iraq and Afghanistan.
For more than a century, the charity has been providing vital free training, rehabilitation, equipment and emotional support to blind and vision-impaired veterans no matter when they served or how they lost their sight. Visit blindveterans.org.uk/support to learn more about the charity and how you can support its vital work today.
ENDS
For all media enquiries please contact: Ruth Moore, PR and Communications Executive, Blind Veterans UK, 12 – 14 Harcourt Street, London W1H 4HD, E: ruth.moore@blindveterans.org.uk, T: 020 7616 7955
Notes to Editor
Blind Veterans UK
Blind Veterans UK is a national charity that believes that no-one who has served our country should have to battle blindness alone. It provides blind and vision-impaired ex-Service men and women with lifelong support including welfare support, rehabilitation, training, residential and respite care.
Find out more at: www.blindveterans.org.uk, and follow us on Facebook at: facebook.com/blindveteransuk and on Twitter at: twitter.com/blindveterans.