Friends Leigh Morgan (22) and Marco Turnbull (19), both Royal Engineers, based at RAF Wyton, Cambridgeshire, are running the London marathon together to support SSAFA, the Armed Forces charity. Marco is the youngest runner for the charity and Leigh is the tallest.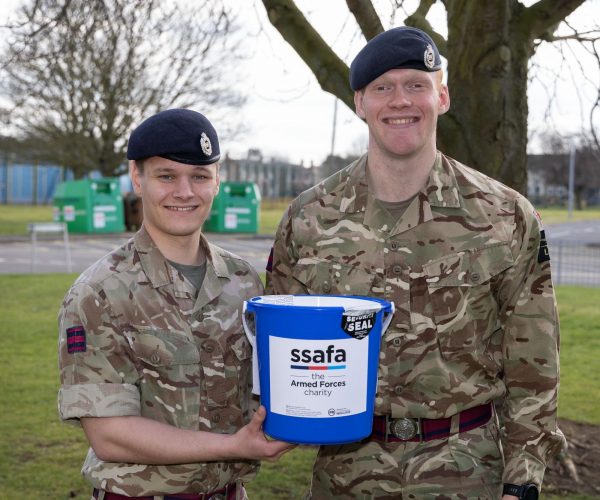 Leigh, who has run marathons before, is hoping to make good time around the 26 mile course and his training is going well.
Leigh says:
"I'm lucky because it is easy to train at work as we get some time during the working day to maintain fitness levels. I've done a couple of marathons before off my own back, but this will be the first marathon raising funds for a charity. The hardest bit is the fundraising!"
This is the first marathon attempt for Marco, who is having a more challenging time, albeit with a smile on his face.
Marco says:
"Honestly, I didn't exactly like running when I was at school, and now I really can't stand it. I've got shin splints and Leigh's legs are so long that I have to take two strides to every one of his! It's all a bit like hard work. But things worth doing aren't always the easy things in life. My dog is enjoying the training though."
The lads need to raise £2500 each to run for the charity. They have some fun ways of raising money, including a cute pet competition on Instagram (@ssafa_pets) and a raffle which was sponsored by Generation's Dance Academy in Huntingdon.
The soldiers will also be standing to attention outside St Ives Waitrose on the 1st April offering the public a chance to 'hug a uniform' to promote mental health and wellbeing.
Leigh says:
"It is such a great cause. SSAFA look after service people and their families if anything bad happens. I feel like I should help now, whilst I can, just in case me or my friends need help in the future."
Marco comes from a military family and has seen first hand what a help SSAFA can be.
Marco says:
"My dad has been sent away on tour to Afghanistan loads of times. SSAFA would always organise nice things for us kids to do to take our minds off that. And when people don't come back, or don't come back whole, that's when SSAFA really steps in."
If you would like to support  Marco, Leigh and SSAFA please donate at: https://2023tcslondonmarathon.enthuse.com/pf/leigh-morgan-londonmarathonssafa or find them on Instagram