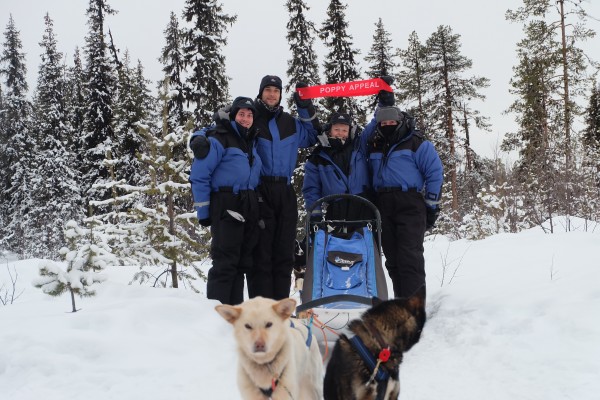 A dynamic young team of four from the local company Signal, based in Cheltenham, have returned safely after enduring a five-day dog sledding challenge in Sweden to support The Royal British Legion.
The group sledded across snow-filled hilly terrain, covering 180km over the five days of trekking, in temperatures ranging from -5C down to -20C. Each group member was aided by a team of loyal huskies to lead them through the snow-covered forests and mountains of Swedish Lapland. The adventure began in Kiruna, Sweden's northernmost city, situated 145km north of the Arctic Circle.
Sarah Bartram, one of the team, said, "None of us had done anything like this before, so we didn't really know what to expect until we got there. There were definitely a few nerves kicking in just before we went!
"It was a fantastic experience though. The dog sledding itself was a lot more technical than I'd anticipated, so it was definitely a challenge! There were a few falls off the sleds – mainly on my part actually – but it was a lot of fun as well. Our guide was absolutely brilliant, and we all more or less got the hang of it by the end of the five days.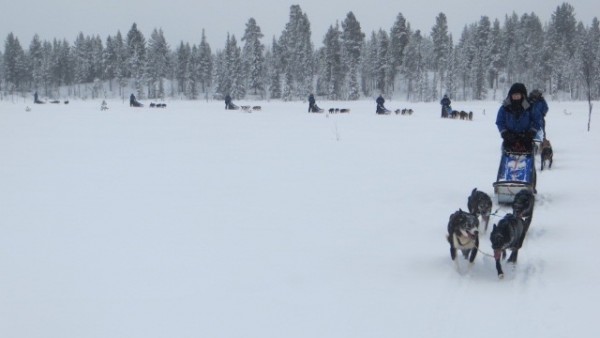 "We were quite lucky with the weather as well, as it can apparently get down to -45C at this time of year, but the coldest it was while we were there was -20C. That's still cold enough for your eyelashes to freeze together though, which led to a few scary moments! Keeping our hands and feet warm while we were on the sleds was a real challenge as well, so there were some weird looking exercises going on in that respect.
"It's quite a strange feeling now that it's all over though, because we'd been fundraising and training for about 6 months before the challenge itself, so everything we were doing had been building up to it for ages. Then with it being our work's charity challenge for this year, everyone was asking about it when we first came back into the office. So we had a few days of re-living the experience, but things are very much back to normal now."
The cost of the sledding itself was covered by Signal's sponsorship, so every penny donated is going to fund The Royal British Legion's important work providing financial, social and emotional support to the millions who have served and are currently serving in the British Armed Forces, and their families.
The team have put a lot of effort into fundraising for the challenge, raising over £13,000. Along the way, they hosted a clothes-swapping event, held a live music night, ran a tuck shop for colleagues and supported the Poppy Appeal collecting and offering poppies over Remembrance fortnight.
Lucas Abbott, another member of the team, said, "We've really enjoyed raising money for The Royal British Legion and the challenge itself was an experience I'll never forget. The support from our colleagues and the public has been fantastic. The generosity we've come across while fundraising has been really heart-warming, and it's great to see that so many people recognise the vital work the Legion does to help the Armed Forces community all year round."
To find out more about the challenge and to donate to The Royal British Legion, visit the team's fundraising page at www.justgiving.com/fundraising/thesignalsnowpatrol.
If you'd like to get involved supporting the Poppy Appeal locally please visit their Facebook page www.facebook.com/PoppyAppealGlos
ENDS