3 July 2018, the Lord-Lieutenant of Hampshire, Nigel Atkinson and his wife Christine Atkinson visits DMWS and continue to show a real interest in our charitable work of supporting those who serve when they suffer from ill health.
It has been a real pleasure to welcome the Lord-Lieutenant of Hampshire, Mr Nigel Atkinson and his wife Christine Atkinson to meet with DMWS's CEO Paul Gaffney at our Headquarters in Andover yesterday.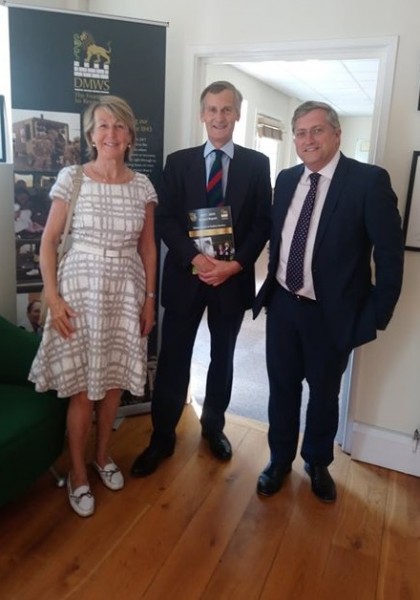 Since their last visit to DMWS we have received further funding to expand our unique service to the entire Armed Forces community in South England. Thanks to the ABF The Soldiers' Charity, DMWS received funding by the Chancellor of the Exchequer using LIBOR funds to help serving personnel, veterans and their family members with the aim to improve wellbeing and recovery, reduce social isolation and promote independence.
By supporting patients and their families we provide additional advantages to linked organisations and health care providers such as minimising the risk of complaints, saving money by reducing hospital length-of-stay and quicker return to work, tackling delayed transfer of care issues, supporting family members and freeing up clinical staff.
We also continue to make a real difference to members of Hampshire Police by offering an independent and confidential service, addressing issues that arise due to physical or mental ill health.
Glyn, who has worked as a Welfare Officer both projects, presented some real life case studies to illustrate the difference our charity makes to those who sever.
One such example is that of a veteran in his mid-90s who lives alone in a small flat feeling isolated, lonely and at times afraid. When he received care at Winchester Hospital, the Adult Services Department contacted DMWS to help source additional support for him after discharge. Glyn visited the veteran regularly and also connected him to other organisations, such as Winchester Good Neighbour Network whose volunteers offer a helping hand to others in their local community.
"In the few weeks Glyn has met my father, he has helped him so much, just by taking the time to talk to him and listen. Thank you so much, you have made such a difference to a lonely man." said the veteran's daughter.
Glyn also supported a member of Hampshire Police and his family when the officer had to come to teams with a very difficult medical diagnosis. Apart from the emotional support provided, DMWS interacted with the Department for Work and Pension to help him with the application for personal independent payment, which has reduced the stress and anxiety felt by the family.
We are proud of the unwavering support we provide to those who give so much to protect our nation.
For more information about DMWS please visit www.dmws.org.uk
Notes to editors:
For immediate Release
For further information on DMWS please contact Christine Pilbeam, Marketing and PR Manager on 01264 774 270 or email mfo@dmws.org.uk
Registered Charity in England and Wales (1087210) and in Scotland (SC045460)
About St John and Red Cross Defence Medical Welfare Service (DMWS)
DMWS was formed from the Joint War Committee of the Order of St John and the British Red Cross in 1943, in order to provide a highly responsive and professional welfare service to those who serve.
Our welfare officers offer practical and emotional support to frontline staff during times of physical or mental ill health to improve wellbeing and recovery, encourage a positive approach to treatment, reduce social isolation and promote independence.
Over the last few years we have expanded our service to new beneficiaries in the veteran's community, the Police, the probation service and the NHS to continue our mission to support those who put themselves in harm's way to protect the Nation.