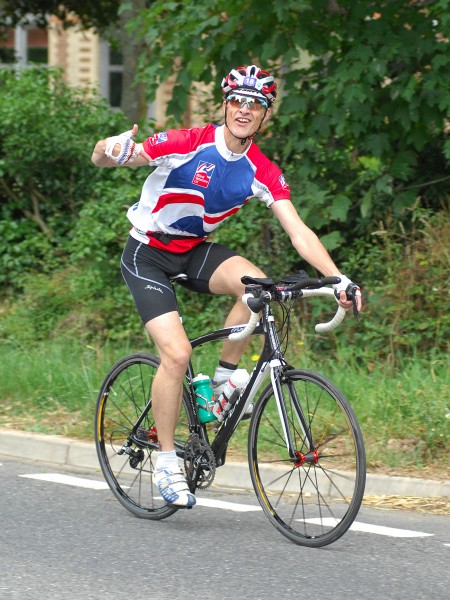 A magazine editor from Surrey is currently training to compete in Revolve 24, the Brands Hatch Cycle Challenge, for Blind Veterans UK, the national charity for blind and vision-impaired ex-Service men and women.
Chris Bennett, 54 and from Bookham, has been a supporter of Blind Veterans UK for a number of years now, through the partnership that his magazine, Optician, has with the charity. He explains: "Optician works with eye care professionals on the high street and in hospitals.
"We've been with Blind Veterans UK for a while now. The work they do in providing practical assistance to those in need and looking to adjust to sight loss is essential and it's a cause we're proud to support."
While Chris has no military background himself, he retains an enormous amount of respect for the men and women who have bravely served their country. He says: "My father served in the Second World War so I've always held a huge amount of admiration for people, particularly those who are very young, who put themselves in danger for the good of others."
After taking part in a similar event at Le Mans a few years ago, Chris was eager to find another long distance challenge that he'd be able to push himself for. As it turned out, the famous course at the Brands Hatch circuit proved too good an opportunity to turn down.
Revolve 24, which takes place from 16 – 17 September, will allow participants to challenge themselves on the iconic Brands Hatch track. On the day there will be three challenges available: 24 hours, 12 hours and 6 hours. Participants can enter as an individual or in teams of two, four, six or eight. Chris will be cycling continually for 24 hours with his friend, Paul.
Despite the understandable apprehension, Chris has been making incredible progress with his fundraising efforts. He says: "With pledges made, I've raised over £1,000, which is really pleasing!
"Now I just need to turn my attention to the training. It's all about finding the right balance between training hard but at the same time remaining fresh and fit. If the weather is good, that'll be a bonus too!"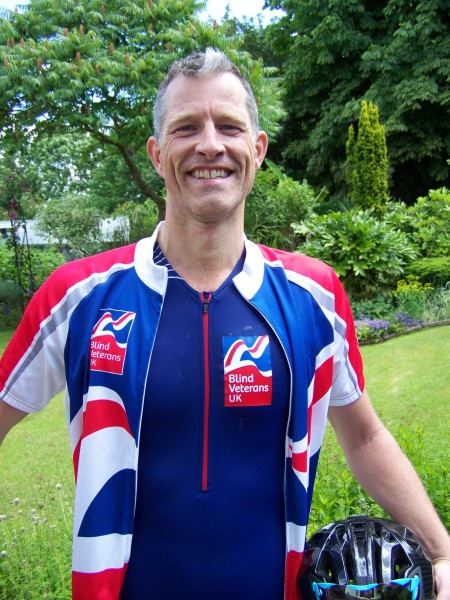 Chris is eager to encourage as many people as possible to take the plunge and get involved in charity fundraising events, whether individually or as part of a team. He says: "Events such as the Brands Hatch Cycling Challenge don't come around all too often, but they're truly fantastic environments and fantastic ways of ensuring you make the most of life!"
To donate to Chris, please visit: justgiving.com/chrisbennettoptician.
To find out more about the Revolve24 Brands Hatch Cycle Challenge, please visit: blindveterans.org.uk/revolve24
For all media enquiries please contact: Felix Arbenz-Caines, PR Assistant, Blind Veterans UK, 12 – 14 Harcourt Street, London W1H 4HD, E: Felix.Arbenz-Caines@blindveterans.org.uk, T: 020 7616 7941
Notes to Editor
Blind Veterans UK
Blind Veterans UK is a national charity that believes that no-one who has served our country should have to battle blindness alone. Founded in 1915, the charity provides blind and vision impaired ex-Service men and women with lifelong support including welfare support, rehabilitation, training, residential and respite care.
Find out more at: blindveterans.org.uk, follow us on Facebook at: facebook.com/blindveteransuk and on Twitter at: twitter.com/blindveterans.