Mark Perryman, Training Manager for DMWS Training has recently been interviewed by Mental Health First Aid England on his path from being a member of the Armed Forces, to becoming a Welfare Officer at DMWS and for the last 3 years delivering DMWS Training, including MHFA courses to internal staff and external organisations. He said: "When we deliver MHFA we try to bust myths – like 'everyone who serves leaves with a mental illness', or 'there's no support for mental health in the military'."
As the Defence Medical Welfare Service (DMWS) celebrates its 75th year of supporting the Armed Forces community, the charity continues to innovate the welfare profession. Since 1943 the organisation has given practical and emotional support to over one million clients and families. They help serving personnel, and other frontline services, veterans and their families to navigate their care in cases of injury, illness, bereavement or social issues, linking people up with a strong network of services and organisations to improve wellbeing and recovery.
DMWS's Training Manager is Mark Perryman, himself a veteran of the Armed Forces. Mark is a qualified Mental Health First Aid (MHFA) instructor and recently won MHFA England's 'Most Supportive Friend' Award in recognition of his work in the community.
Why we started MHFA training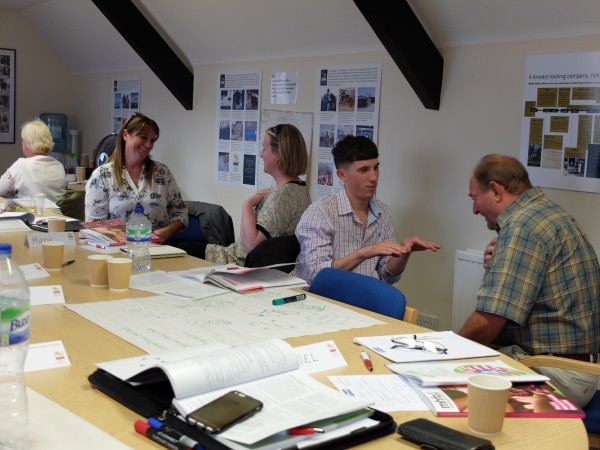 Every member of staff at DMWS is a trained Mental Health First Aider. The Welfare Officers work directly with people in complex cases and often in crisis situations so Mark considers it vital for them to have the skills to support mental health. But for office-based staff too, MHFA skills are essential for their role. "When a distressed person calls the office, whoever answers the phone has the confidence to reassure that person and guide them towards support," Mark says.
In 2013, Mark, then a Welfare Officer, went on a two day MHFA course. "Other mental health related courses we had taken in the past focused on what not to do. MHFA gave us practical skills for what you can do to help someone." To pass these skills on to his colleagues, Mark trained as an MHFA instructor to deliver Armed Forces and Adult MHFA courses in-house.
After interest grew among their network of partner organisations, DMWS decided to offer the courses externally too. It is now part of their accredited Diploma in Welfare Studies, a professional qualification which distils their years of experience in welfare services.
Results
What started as six courses in 2014 has grown to over 50 MHFA course deliveries a year. DMWS now trains in organisations from corporates to local government, education, emergency services and other charities. Organisations across the board are keen to change their culture around mental health – their diverse clients include a football club, a historic boatyard, and ambulance services.
This business model has broadened their own referral pathways too, linking up agencies and charities who first enquire about training and go on to collaborate in the services they provide.
Mark and his colleagues do all they can to help communities access the training. Recently, a grant from the Morrisons Foundation funded the delivery of MHFA courses to small local voluntary groups including Scouts, police and firefighter cadet leaders.
Hampshire has the second largest veterans' community in the UK and the Covenant Fund is funding Armed Forces MHFA training for staff at Hampshire County Council. So far, 100% of these delegates have said in the follow-up survey that their new skills will help in their role.
"The feedback I get is very rewarding, especially when people tell me about putting their skills into action," Mark says. Only days after finishing the course, one person was able to help a colleague who was having a panic attack. Another one said: "I can't tell you how much this has changed my life and how I deal with people."
As well as first aid support and interpersonal skills, the courses seem to be inspiring broader cultural change: "A CEO on one of my courses told me he was going to rewrite his health and wellbeing policy from scratch to embed equality between physical and mental health."
What the future holds
To meet the rising demand for MHFA courses among its networks, DMWS is bringing on board more instructors to deliver the training in 2018. Celebrations will continue throughout their 75th year of service for the Armed Forces community, with a range of events taking place throughout the year.
One of Mark's long-term priorities is inspiring change in the Armed Forces community. "When we deliver MHFA we try to bust myths – like 'everyone who serves leaves with a mental illness', or 'there's no support for mental health in the military'. Huge progress has been made around normalising mental health in the Forces – support is out there nowadays. Our training encourages people to access these specialised sources of support early, empowering faster recoveries and reducing the strain on the NHS."
To find out more please visit www.dmws.org.uk/training
ENDS
28 February 2018
Notes to editors
For immediate Release
For further information on DMWS please contact Christine Pilbeam, Marketing and PR Manager on 01264 774 270 or email mfo@dmws.org.uk
Registered Charity in England and Wales (1087210) and in Scotland (SC045460)
About St John and Red Cross Defence Medical Welfare Service (DMWS)
The St John and Red Cross Defence Medical Welfare Service (DMWS) has been providing a person-centred medical welfare service to the Armed Forces Community since 1943. In that time we have supported over 1,000 000 patients and their families, ensuring that no one goes through the worry of injury and illness alone. Our highly trained welfare officers provide practical and emotional support to those receiving medical treatment. Recent new projects with organisations such as the police, the NHS and the probation service demonstrates the broad appeal of the organisation and its application to a wide set of frontline services. We are available 24 hours a day, 365 days a year.