Blind Veterans UK have issued an urgent appeal for volunteer drivers to save the fortnightly rehearsal of the only blind veterans choir in the world.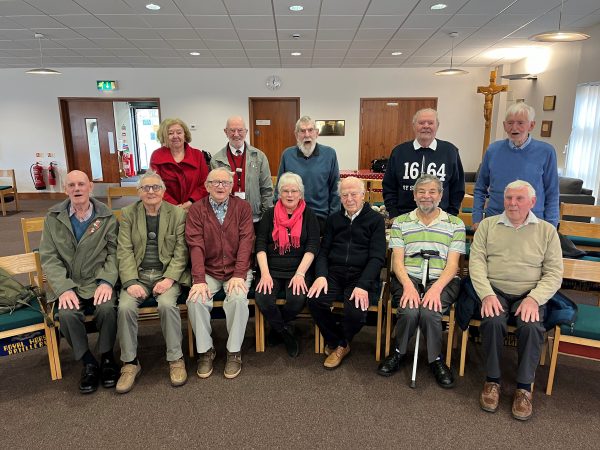 The choir, Vision in Song, is made up exclusively of ex-Servicemen who are blind or severely sight impaired. They meet every other Thursday morning for rehearsals at Colchester Garrison.
The men range in age from 79 to 95-years-old and hail from a variety of communities across Essex including Shotley, Colchester, Basildon, Billericay, Halstead, Rayne, and nearby Ipswich.
It's a sad fact that many blind veterans suffer from social isolation. It happens as we get older and our families leave us, and partners pass away. For people with sight loss, that isolation is all the more painful to bear.
The choir has provided a crucial lifeline for these veterans by giving them something to live for, look forward to, and provides vital social interaction with their peers. It hasn't only improved their quality of life, but also helped rebuild their self-confidence and self-esteem by reducing social isolation.
Sadly, the future of the choir is in doubt. The frequency of rehearsals has already been reduced from weekly to fortnightly. Without vital volunteer drivers to transport these brave men from their homes to Colchester Garrison on Thursday mornings, the rehearsals will not be able to continue.
Blind Veterans UK urgently require volunteer drivers in Shotley, Colchester, Basildon, Billericay, Halstead, Rayne, and Ipswich. Just a few hours a month will make a huge difference to the life of someone who gave everything for their country.
The charity provides thorough training on guiding those with a vision-impairment and reimburse all out-of-pocket expenses.
The choir members represent all three branches of the British Armed forces: Army, Navy and RAF and perform an assortment of numbers from war-time classics to patriotic anthems and jazz hits.
Ted Cruse, 85-years-old and from Basildon, is one of the original members. He says:
"Vision in Song has given all of us a chance to sing again when we thought we never would. There is a real sense of camaraderie in the group and we all really look forward to rehearsals."
Ted served in the Royal Artillery as a wireless operator between 1954 and 1960. It was later in life at age 62 when he was diagnosed with glaucoma which would eventually leave him with just one per cent vision in one eye and six per cent in the other.
Colin Humphreys, 83 and from Colchester, is another of the choir members. He says:
"Being in the choir has become such an important part of my life. The feeling of belonging to a group in old age is very important to us. We all have each other's phone numbers and regularly keep in touch between rehearsals."
Colin entered the military in 1958 and served as an armoured vehicles mechanic with the Royal Electrical and Mechanical Engineers in Germany. It was later in life that macular degeneration stole Colin's sight which has been in steady decline ever since.
In 2019 the group released their debut EP, 'Sing as we go', on Spotify and Apple Music. Alongside the EP, they released a music video for the song 'Pack up your troubles in your old kit-bag'.
Visit volunteer.blindveterans.org.uk to find out more and sign up to become a volunteer driver today.
Blind Veterans UK supports thousands of blind veterans across the country, but knows there are up to 50,000 more who still need its support to rebuild their lives after sight loss.
If you, or someone you know, served in the Armed Forces, including National Service, and are now struggling with sight loss, then please get in touch. Call 0800 389 7979 or visit blindveterans.org.uk/support