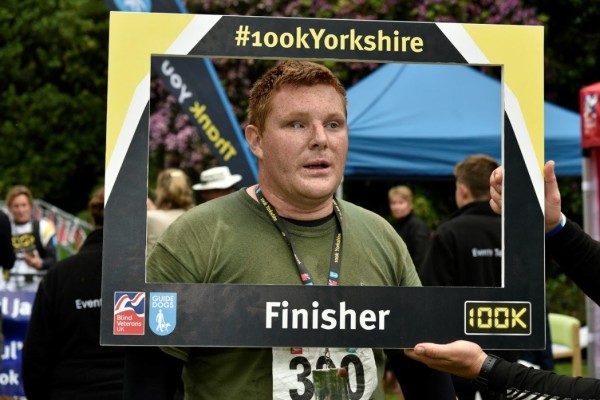 A new anti-gravity treadmill has been unveiled by military charity Blind Veterans UK after a blind veteran raised £15,000 towards its purchase.
Rifleman Paul Jacobs GM, 27, from Brighton who completely lost his sight whilst on operations in Afghanistan, raised the money by tackling Blind Veterans UK's inaugural 100km challenge over the Yorkshire Dales in June last year.
Paul, who has already climbed Mount Kilimanjaro and finished the London marathon twice, embarked on the mammoth, overnight trek with a team of fellow walkers there to guide him.
The team called 'Paul's People' wanted to raise the funds for essential specialist rehabilitation equipment for the charity, Blind Veterans UK, which helps ex-service men and women across the UK who have suffered severe sight loss. After beating their initial £10,000 fundraising target the team settled on using the money to contribute towards an anti-gravity treadmill.
Paul lost his sight in 2009 when, just three weeks away from the end of his tour in Afghanistan, his patrol encountered an improvised explosive device in Sangin Valley. He received the George Medal for exceptional valour on the battlefield and is no stranger to taking on physical challenges since losing his sight.
Paul says: "I've climbed Kilimanjaro, completed a few marathons and triathlons, and had already walked the London to Brighton 100k challenge for Blind Veterans UK. So the new Northern route seemed like the next obvious challenge! I might have been injured, but I'm still a soldier and this is my way of making my life count and helping others. You don't need to have sight to have vision.
"Blind Veterans UK has done so much for me so I'm very proud to have been able to give something back by raising this money and giving the centre this piece of equipment. I hope it will make a real difference to people's lives."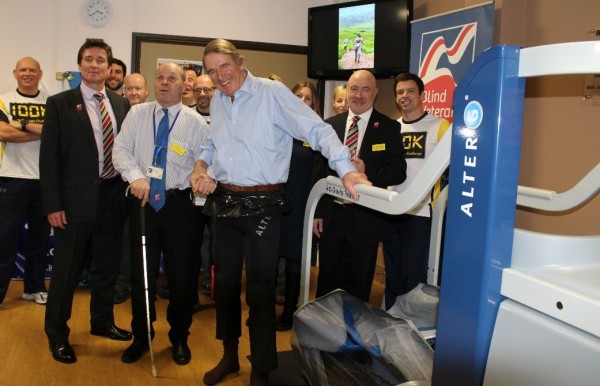 The specialist equipment was unveiled at the charity's training and rehabilitation centre in Llandudno on Thursday (19/01). The anti-gravity treadmill will be used by blind and vision-impaired ex-Service men and women with specialist training needs. Mark Hollis, Activities Team Leader at Blind Veterans UK, has described how excited the staff are to get going training veterans on the treadmill.
He said: "The Alter G anti-gravity trainer is an amazing rehabilitation tool which will allow us to offer a much broader range of services. The team are really excited about the prospect of getting started on it.
"We can assist in mobility training for veterans who have suffered a stroke or are recovering post operatively from knee, hip and lower back injuries as part of a coordinated programme with our gym staff, in house Occupational Therapist and the veterans' physiotherapy team.
"The Alter G has also been proved to reduce the fall rate in MS and Parkinson's sufferers by 95% as part of an intense programme, this will make a massive impact on people's lives and general wellbeing.
"We are so grateful to have been donated this amazing life changing piece of equipment."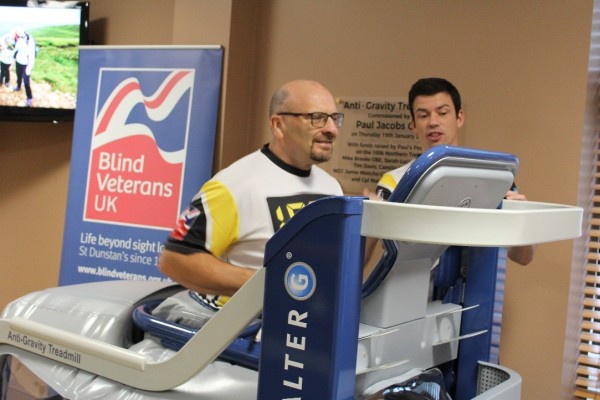 Colonel Mike Brooke OBE is a Trustee of Blind Veterans UK and was one of the guides who assisted Paul along the 100km route. He was asked to unveil the new equipment.
He said: "I, and the rest of 'Paul's People' were hugely proud to just work alongside Paul on the day. He is an excellent example of the great things our blind veterans can achieve.
"We set the target to raise £10,000 when the idea for the walk was first suggested. To beat that and raise an incredible £15,000 is fantastic and the extra money has allowed us to contribute more for this treadmill."
Blind Veterans UK's two 100k challenges are the charity's biggest annual fundraisers and take place in Yorkshire and from London to Brighton. To learn more and sign up for the Blind Veterans UK 100k events, please visit www.blindveterans.org.uk/100k.
Blind Veterans UK was founded in 1915 and the charity's initial purpose was to help and support soldiers blinded in the First World War. But the organisation has gone on to support more than 35,000 blind veterans and their families, spanning WWII to recent conflicts including Iraq and Afghanistan.
For more than a century, the charity has been providing vital free training, rehabilitation, equipment and emotional support to blind and vision-impaired veterans no matter when they served or how they lost their sight.
ENDS
High Resolution images are available on request
For all media enquiries please contact: Mark Wheeler, PR Officer, Blind Veterans UK, 12 – 14 Harcourt Street, London, W1H 4HD, E: mark.wheeler@blindveterans.org.uk, T: 020 7616 7980
Notes to Editors
Blind Veterans UK
Blind Veterans UK is a national charity that believes that no-one who has served our country should have to battle blindness alone. Founded in 1915, the charity provides blind and vision impaired ex-Service men and women with lifelong support including welfare support, rehabilitation, training, residential and respite care.
Find out more at: blindveterans.org.uk, follow us on Facebook at: facebook.com/blindveteransuk and on Twitter at: twitter.com/blindveterans.